Get your skin winter-ready with the help of Glow Laser Aesthetics
Upper Michigan Today Monday, November 20.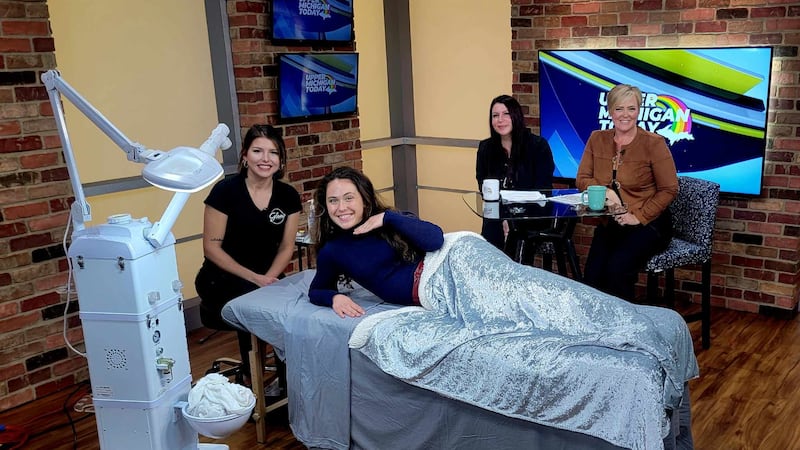 Published: Nov. 20, 2023 at 11:31 AM EST
MARQUETTE, Mich. (WLUC) - Embrace the winter glow this season with a skincare service tailored to your skincare needs.
On Monday's episode of Upper Michigan Today, Elizabeth Peterson and Tia Trudgeon delve into the world of winter skincare and explore the rejuvenating benefits of facials at Glow Laser Aesthetics.
But first, they talk Thanksgiving travel, dos and don'ts, and gratitude.
Now, back to Glow Laser Aesthetics.
Owner Jamie Thayer pops in to chat about the services offered and a proposed timeline for getting them.
She recommends starting treatment six weeks before your desired date.
Thayer dives into the benefits of facials while Macy LaJoie starts the DermaGlow Clear facial on Tia.
Thayer shares skincare facts and myths.
Facts and myths continued.
If you can't make it in for a facial, don't fret.
Thayer shares tips for taking care of your skin at home.
Right now, Glow Laser Aesthetics is offering a BOGO %50 off promotion on all services.
You can view Glow Laser Aesthetics' full list of services and book an appointment at glowmqt.com.
You can watch Upper Michigan Today on weekdays at 9:00 a.m. on FOX UP or stream the show on your smart device with the TV6+ app.
Copyright 2023 WLUC. All rights reserved.