Suunta Integrative Health celebrating 4 years of providing mental health services
With three brick-and-mortar offices and telehealth services, mental health providers at Suunta can reach patients U.P.-wide.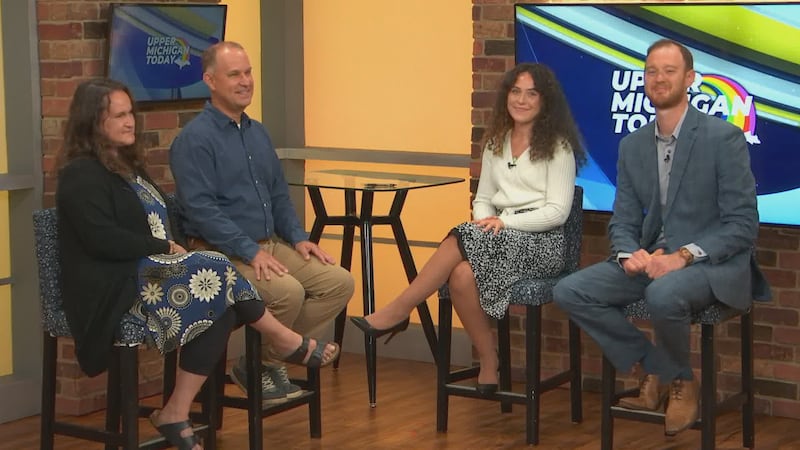 Published: Sep. 26, 2023 at 11:49 AM EDT
MARQUETTE, Mich. (WLUC) - A mental health clinic based in Marquette is celebrating four years of providing mental health services to patients in the U.P.
Suunta Integrative Health opened its doors in Downtown Marquette just six months before the COVID-19 pandemic.
Now, it has brick-and-mortar offices in Escanaba and Ishpeming as well as telehealth services that can be accessed across the Upper Peninsula.
Founders Melissa and Peter Copenhaver stopped by Upper Michigan Today to talk about mental health and expanding their reach.
But first, Andrew LaCombe joins Tia Trudgeon as co-host while Elizabeth Peterson sets sail on a Great Lakes freighter.
Now, back to Suunta Integrative Health.
The Copenhavers say they saw a heightened need for mental health services during the COVID-19 pandemic, and since then, levels of social anxiety in individuals have remained higher than pre-pandemic levels.
But it wasn't just the lockdown that prompted a need for service expansion.
"We wanted to provide an opportunity for clients to receive integrated health, so we use a variety of modalities in terms of mental health therapy, we do auricular acupuncture," explains Melissa, "We really take a focus too on looking at nutrition, sleep, and exercise, because mental health isn't just therapy, it isn't just medication, it's looking at the whole aspect of the individual."
Suunta Integrative Health has therapists who specialize in pediatric mental health, infant mental health, grief, the LBGTQ+ community, and post-partum care.
Based on your information, Suunta will match you with a therapist they feel is right for you.
Depending on the mental health service you're looking for, you may be waitlisted.
Suunta accepts health insurance and out-of-pocket payments.
The Copenhavers encourage you to have open conversations about mental health.
Check-in with yourself, your family, and your friends. Don't be accusatory, but ask questions and show your concern.
Pay attention to your moods, feelings, and bodily functions. If you experience any sudden changes in these areas, it might be a sign to reach out to your primary care provider.
You can reach out to a mental health provider at Suunta Integrative Health and become a patient at suuntawellness.com.
Melissa Copenhaver is licensed as a Family Nurse Practitioner, a Clinical Social Worker, and a Certified Mental Health Integrative Medicine Provider (CMHIMP). She has completed training in Eye Movement Desensitization, Reprocessing therapy (EMDR), and Trauma-Focused Cognitive Behavioral Therapy (TF-CBT).
Peter Copenhaver holds a Limited License Master of Social Work-Clinical (LLMSW-C).
You can watch Upper Michigan Today on weekdays at 9:00 a.m. on FOX UP or stream the show on your smart device with the TV6+ app.
Copyright 2023 WLUC. All rights reserved.