UP Wineries: Threefold Vine Winery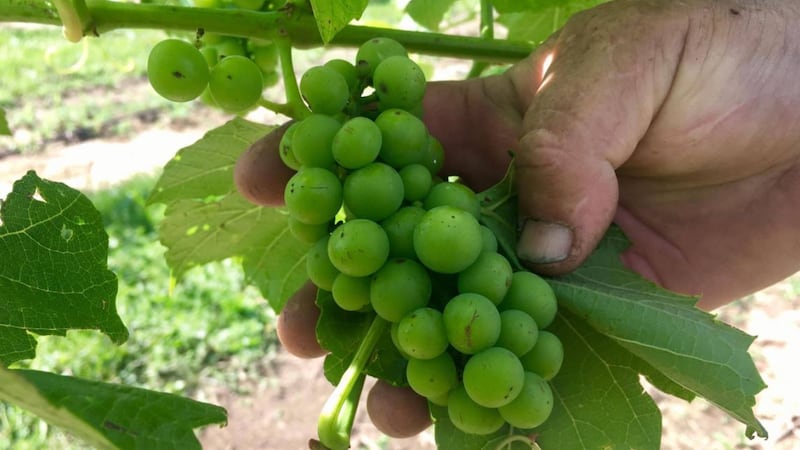 Published: Jul. 31, 2017 at 6:22 PM EDT
"Honestly U.P." Homegrown from grape to bottle. That's the motto at the Threefold Vine Winery in Stephenson.
The husband-wife team running Threefold Vine Winery are both fifth-generation Yoopers and farmers by trade.
They moved into their new location in downtown Stephenson four years ago, and it's not your typical storefront. The building was a bank, but Threefold Vineyards chose it not just because of its historical ties to the community…they have deep rooted family history here as well.
"My relatives have all touched those doors and walked through them," said Winemaker Andy Green. "That was one thing we told our kids. This is one of the buildings that I can tell you, every one of your grandparents, your great-grandparents...they all would've came through those doors."
And the Upper Michigan tradition shows in their product, from start to finish…even though Green told TV6, many people don't realize you can grow grapes here.
"We get cuttings that are dormant in the wintertime and we can get them started. But that was the actual cuttings size of when we planted it," Green said while out in the vineyard. "And then from there of course, it grew from a bud and started to develop a trunk. And from there, we just put it on a trellis."
The Greens have a "farm-to-table" approach to making their product. The selection they have all depends on the crop that year, growing on seven acres on their Nadeau Township farm.
From the vineyard, the grapes are crushed and many wind up in barrels, beneath the storefront.
"That's it! It forms a vacuum," Green said. "…You know, different oaks impart different flavors. The American Oak is different from the French Oak. You know, it's kind of neat. They get different toasts. You get like a medium roast, or a heavy roast, or a light toast, where the whiskey barrels are actually charred on the inside. It's just like charcoal."
Wendy Bussie, a Chicago resident who visits family every summer in Stephenson said, her family is trying to convert her into a wine drinker.
"I'm not a wine snob at all. I was told, I'm not a wine snob," Bussie said.
But she does have enjoy sweets, and said the Threefold owners made her feel comfortable enough to try something new.
""I'm a sweet girl, so I like Moscatos. And Andy helped me out a lot, picking all the ones that he thought I would like, that didn't have a lot of alcohol taste," Bussie said. "I fell in love with the 'Pearfection.' It was super sweet and yummy!"
The only real obstacle Green said he and his wife have had to overcome is the lack of name recognition with U.P. grapes.
"There's a few people that'll come in and they'll say, they want a merlot, or they want a [cabernet]... we always tell them, 'we can't grow them here in the U.P.' and even if I could, I probably wouldn't, because there are a lot of good ones out there!" Green said. "I always like to grow things that are a little more unique."
"Come here if you want to try some good wine, and have a good time!" Bussie said.
In part two of this three-part winery series, we'll take you to Northern Sun Winery in Bark River.