Northern Michigan University grad student surprised by impromptu commencement ceremony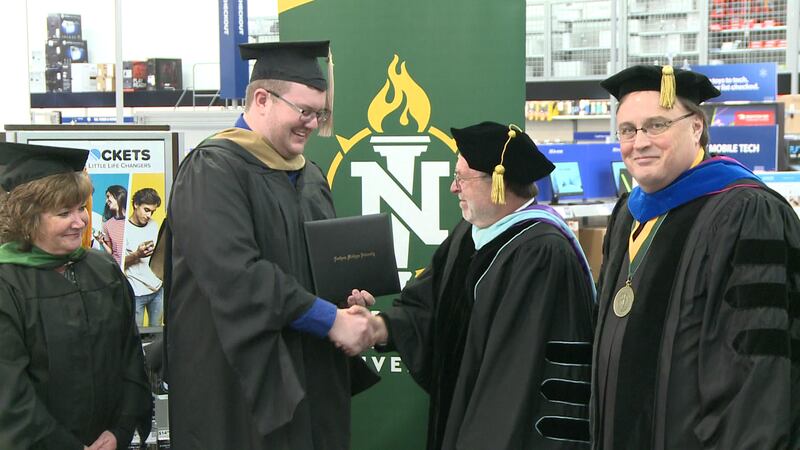 Published: Dec. 13, 2018 at 5:21 PM EST
Steven Donely, Front End Supervisor at Best Buy recently earned his MBA from Northern Michigan University. Commencement is Saturday. But Donely has other plans.
"I'm working this weekend. I have a couple members of the store who are going to be going to graduation themselves. So I was like 'hey, I'll make sure that I'm in the store,' not taking that day off so that everyone else has the opportunity to graduate their first time," confirmed Donely.
Then NMU President, Fritz Erickson caught wind of Donely's weekend plans.
"Well we just couldn't let that stand. So, over we came to award him his diploma," declared Erickson.
President Erickson along with Dean Carol Johnson and Doctor Brunswick brought commencement to Donely at Best Buy in Marquette Township Thursday. It was a brief ceremony, but enough to catch Donely off guard at work.
"Super surprised. But it makes me feel special actually. I'm really happy that I chose to go to Northern. I think it's one of the best decisions I've ever made," Donely confessed.
You can't argue with that. Where else would the president of a university come to your place of work and personally hand deliver your diploma?
"It's a fantastic school. I'm super glad that I chose to go to Northern. Even though I'm not an outdoorsy person. I've met a lot of people up here. Everyone is so friendly. The professors are super helpful. I really liked the one-on-one time I could have with my teachers and my classmates. We always got to work together more closely. And I think that's something that Northern offers a bit more that's unique," Donely asserted.
Donely says that for now, he'll continue working as Supervisor at Best Buy.
"I kind of want to get more proficient at my role. Because I've only been in this position for three months now. So I want to continue growing my knowledge in this. And then eventually I think I want to move to corporate in Minneapolis," Donely outlined.
And as for NMU…
"I'll miss it definitely. Hopefully they'll ask me to come back, talk to classes. Something like that. Because I'd be more than happy to do that," Donely concluded.