New carpenters and millwrights training center almost complete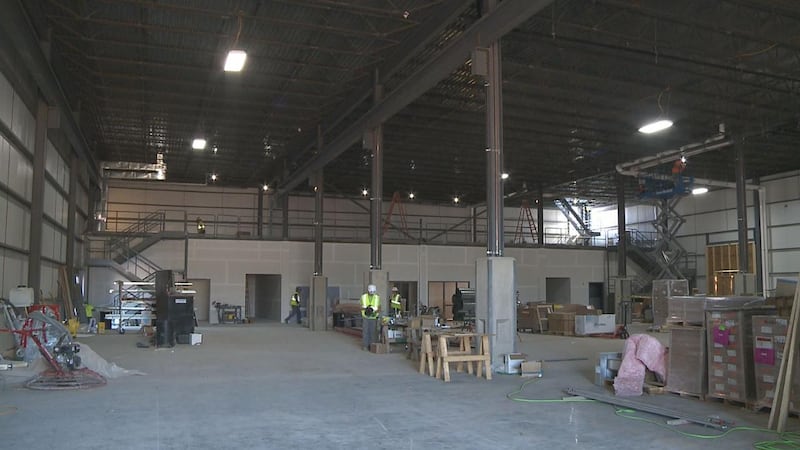 Published: Jun. 27, 2019 at 5:11 PM EDT
Nearly a year after the groundbreaking at the new Negaunee Township Carpenters and Millwrights Training Center site, the construction is almost complete.
"We are about 60 to 70 percent complete for the project. We are finishing up site grading and going to be starting the concrete and paving very soon," said Project Manager, Mark Bates, adding that the construction will be done by the end of September.
Bates added that construction has gone well so far, minus some minor problems due to the winter weather.
"The amount of snow; it was cleaning snow every day for a month straight," said Bates.
The 33,000-square-foot building will serve as a place for carpenter and millwright apprentices to get classroom instruction and hands-on experience.
"With the carpenters and millwrights four-year training program, they can better use the high bay for their hands-on manipulation and the classrooms for the curriculum," said Regional Director for the Michigan Regional Council of Carpenters and Millwrights, Kevin Klingler.
Those involved in the project say the center is a much-needed addition to the U.P., since it can accommodate the ever-growing carpenter and millwright apprenticeship program. As of now, there are about 140 students in the program.
"This is a career for life and we're providing them the training that puts them out into the industry and we're also, for the industry and the contractors, replacing those who are currently retiring and so forth," Klinger added.
Fourth-year carpenter apprentice, Daniel Nowicki, will complete the rest of his apprenticeship at the new facility. For now, he is getting a head start by helping with the construction.
"It's been great getting to know the school that I'm going to be in even more. It's going to be great knowing that once I'm done with the apprenticeship program that it's going to be a building for other students to go through and continue their career and get more people into the trades," Nowicki said.
Bates added that the construction is being done by local union tradesmen. Those on the project include employees from A. Lindberg & Sons Inc., Roy Ness Contracting & Sales Inc., Dressler Mechanical Inc., Closner Construction, Code Electric, and A & F Construction LLC.