New Animal Medical Center focuses on anxiety free environment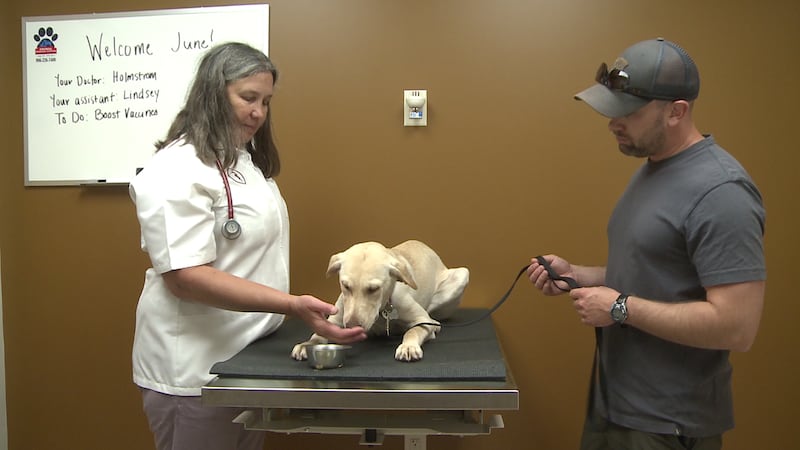 Published: Jul. 23, 2018 at 4:20 PM EDT
June is the name of one the many dogs treated at the Animal Medical Center....and it's also the name of the month the organization moved their new facility.
"Because of the support our clients and the increase in patients with the expansion of our client base, we decided 18 months ago to make the move to this building," said Dr. Kellie Holmstrom.
Their goal is to become a "Fear Free" certified practice by focusing ways to make the pets less anxious upon their visit.
"We have victory visits where clients come in, bring their pets have a treat so that anxiety goes down for future visits," said Holmstrom. "We want to take the pet out of petrified and put the treat into treatment."
The building, once home to the YMCA child care is now home to eight new exam rooms accessed by separate entrances.
The rooms features state of the art equipment, unique walking wheels and walls to help evaluate the pets movement.
"We find that there is a lot of arthritis in cats so if we can say, when the cat was two, he walked to the top of the wall, now he is 5 and he just sits on the bench, so it is important we have the equipment" said Homstrom. "There's a number of things that we can do to help cats with arthritis but step one is realizing they have athritis."
The center also has new separate space for surgery, dentistry, ultrasound and chemotherapy, beneficial and safe for pets but for the staff, too.
"We are improving our quality of x-rays. We have an ICU with heated cages, so if we can make that experience better, it is easier on the pet, easier on the client, easier on the doctor, then it's a win."
The center will also house middle-aged and senior cats that are up for adoption through UPAWS.
"We are going to do a compete blood panel identify where they are on their health and so when they are placed in their homes, their owners are aware of what's going on," explained Holmstrom.
The cats that are ready to be adopted are set to move into the center later this week. For more information about the Animal Medical Center,
.