Michigan Tech takes high school students on tour of the Portage Canal Lift Bridge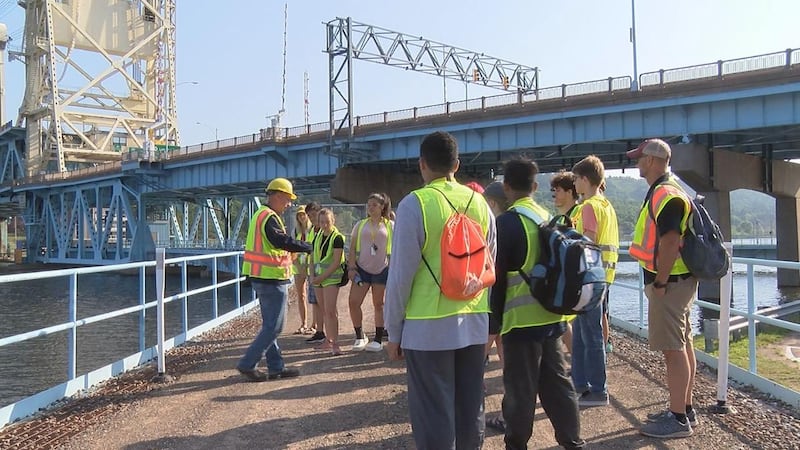 Published: Jul. 17, 2019 at 8:58 PM EDT
Michigan Tech is hosting a group of over 20 high school students from all around the country this week as a part of their summer educational programs. The students are there on a competitive scholarship, and each student had to apply for a position in the program.
"I don't know how many people applied, but the kids that are here we're selected because of the qualities they possess. Every single kid seems to be interested in STEM things and the questions they ask have been pretty impressive to me," said Tim Barron, the Instructor for the program.
The program focuses primarily on civil engineering with a focus in transportation. The group is scheduled to take field trips all over the U.P to many different spots, including the Soo Locks and the Mackinaw Bridge. Wednesday they got an inside look at Houghton County's own Portage Canal Lift Bridge.
"It's a wide variety of things that we do, I try to keep the kids moving, keep them interested and expose them to as many different civil engineering type things as I can," added Barron.
The program helps to show the students what a college learning environment is like as well as giving them an idea on what potential jobs they can get with a degree in civil engineering.
"This program has just helped me out greatly, I mean exploring all the options has just really been great. It's helped show all the different ways of transportation and all the possibilities that are out there for future job opportunities," said Lukas Pfau, a junior from Calumet High School.
The students also partake in a bridge building competition, with four winners being allowed to go up top in the towers of the mackinaw bridge.
"I really enjoyed planning and thinking out how to make the best possible bridge to win this bridge contest that we have going on, and really trying to work for the prize to get to go to the top of the Mackinaw Bridge," added Pfau.