Marquette Trails Festival final race canceled after riders get stuck on chairlift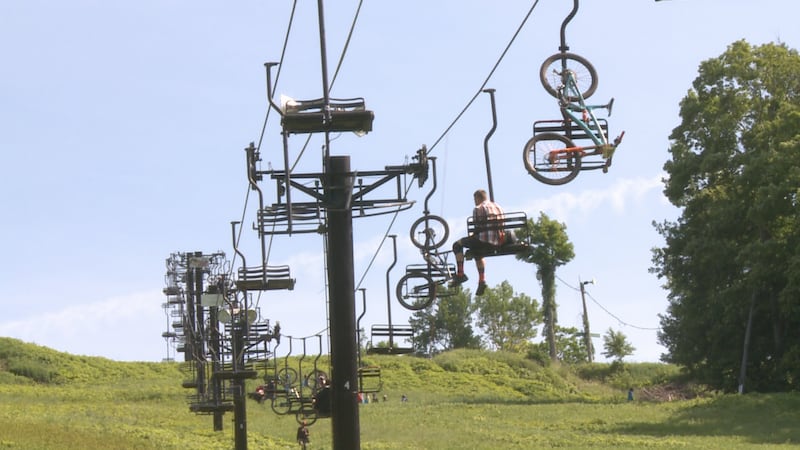 Published: Jun. 24, 2018 at 6:50 PM EDT
Bikers are safely back on the ground Sunday evening, after the final day of Marquette Trails Festival didn't go quite as planned.
Around 2 p.m., while on their way up to the first run of the Downhill Mountain Bike Race, bikers got stuck on the chairlift while riding up the ski hill at Marquette Mountain. The lift was running for four hours before getting stuck, on the 11th and final event of the festival.
Marquette Mountain General Manager Frank Malette says the chairlift stopped working due to both electric and mechanical issues. When something isn't working properly, the safety fail safes stop the chairlift before problems occur.
While the chairlifts auxiliary motor could have gotten the chairlift working again, Marquette Mountain chose to begin an emergency evacuation of the chairlift using a rope and pulley system instead, to get riders off the chairlift as quickly as possible.
Marquette Trails Festival Committee Member Aurora Dobbs says between 20 and 25 bikers were stuck on the mountain for about four hours before all being rescued around 6 p.m.
After everyone was rescued, Marquette Mountain personnel used the auxiliary motor to get the chairlift operating again and return the riders' bikes.
Marquette Police and Fire Department were both on hand during the incident.
Marquette Mountain will be performing electrical work on the chairlift tomorrow. The auxiliary motor will also be put on a different schedule so that it can be used in a timely manner for future instances.
GM Frank Malette says chairlifts stop working often, but usually not when there are a lot of people on it. Marquette Mountain visitors shouldn't be worried about using the chairlift in the future.