Mackinac Island employees organize benefit barbecue for Copper Country flood damages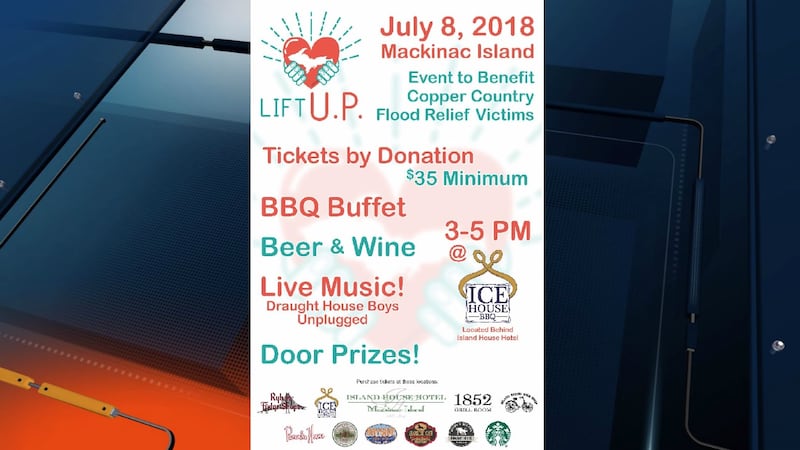 Published: Jun. 27, 2018 at 3:08 PM EDT
The recent flash flood brought four to seven inches of rain within hours made devastating damage the Houghton and Keweenaw counties known as the Copper Country. With roads washed out and help unable to get in and out of the area, Governor Rick Snyder has since declared the area a state of disaster.
"It just brings me to tears every time I talk about it. I am thankful that my family back home is safe, but it has been so hard to not be there to help them. In 2003, my house burned down and the community there helped me back on my feet. And for my community here, it is overwhelming to see everyone, even people I do not know reaching out and getting involved", said Julie Savoy.Co-workers at Seabiscuit Café on Mackinac Island wanted to help Julie who has been feeling helpless without being home to assist her family and friends in Hancock,. What began as a small "how can we help" idea has grown to include volunteers from all 13 of the Callewaert family owned Mackinac Island businesses.
"When you work together in close quarters every day your co-workers become a surrogate family. When one of us is hurting, you want to do what you can to ease that pain" said Samantha Roberts, manager of Seabiscuit Café.
"Whether visitor or resident the Upper Peninsula from end to end holds a special place in everyone's heart. Mackinac Island is a tight knit community. The floods have touched all of us personally in one way or another. Helping each other during the tough times is just what we do", said Todd Callewaert, Seabiscuit Café owner.
Lift U.P. will be at the Ice House BBQ, located behind the Island House Hotel from 3-5 p.m. on Sunday, July 8. Live music will be provided by the Draught House Boys. Tickets include the BBQ buffet, three drink tickets for beer, wine or soda. can be purchased at Island House Hotel, Ryba's Fudge Shop, Ice House BBQ, Pancake House, Seabiscuit Café, and Mary's Draught House for a minimum donation of $35. Proceeds go to Copper Country Flood Relief. Door prizes include a one night stay at the Island House Hotel and two tickets during Macktoberfest.
The Callewaert family owns Island House Hotel, Ryba's Fudge Shops, Island House Bike Shop, Starbucks, Mary's Bistro Draught House, Pancake House, Pine Cottage Bed & Breakfast, 1852 Grill Room, Ice House BBQ, and Seabiscuit Café.