MTU's School of Forest Resources receives largest land donation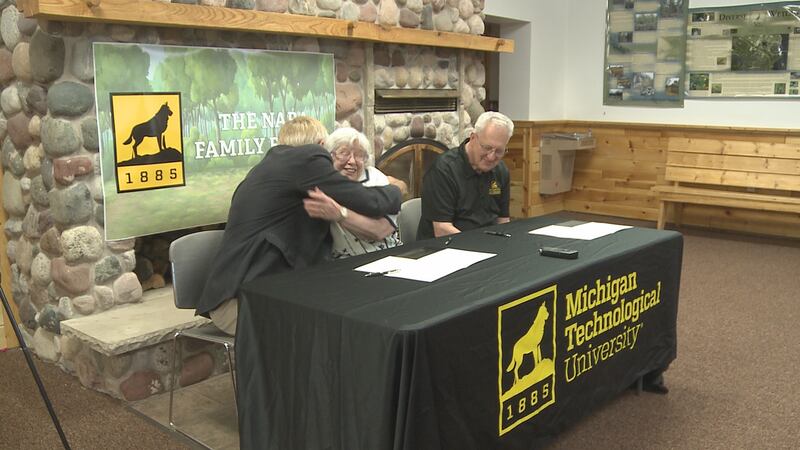 Published: Jun. 28, 2018 at 5:44 PM EDT
It will be a gift that will keep on giving...
On Thursday, long time donor Ruth Nara, gave her family forest over to Michigan Technological University.
"I think my husband would be just delighted because we believe in education, we always believed in learning, and that's what Michigan Tech is," said Nara.
Although the 640 acres of land is valued for more than $1 million, the School of Forest Resources and Environmental Science sees much more than monetary value.
"It will be used strongly for both teaching and research because it's fairly close to the Michigan Tech campus and that the real advantage is that it is only 20 minutes away, so we will have our students there in classes and research projects there," said Terry Sharik, the Dean of the School of Forest Resources. "It's really exciting."
The land is located in the Houghton County's Torch Lake Township, making it the largest land donation the School of Forest Resources has ever received.
"Because it is so big, we can look at variability across the landscape related to various geology and soils and mix of things like topography that would bring about variation in forest over larger tracks of land." explained Sharik.
This gift conclude 14-plus years of work between the Nara Family and the University.
It was also one of the last events of Glenn Mroz's tenure as president of Michigan Tech.
"It brought things to closure," said Mroz. "We feel really great about this and it's going to help people a lot in the future."
Both Michigan Tech facility and students can begin learning and research on their new forest land as it has become available to the university starting on Thursday, June 28.