MAPS board could vote to officially retire 'Native Chief' logo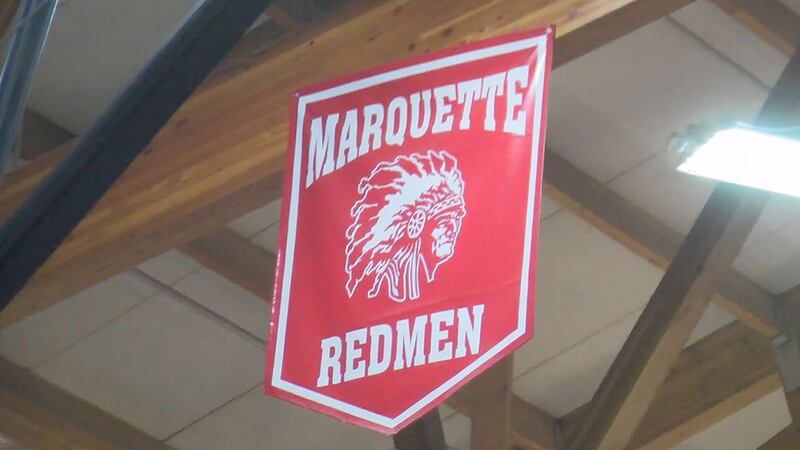 Published: Feb. 14, 2020 at 9:48 AM EST
The Marquette Area Public Schools Board of Education could vote to officially retire the "native chief" logo Monday night.
According to a news release Friday morning, the board will deliberate on whether or not to respectfully retire the "Native Chief" logo that had been used to represent the district from the early 1940s until the early 2000s.
While MAPS has reverted back to the original block "M", no action has been taken on determining the official logo. MAPS says this agenda item is completely separate from any future agenda items regarding or determining the Marquette Senior High School nickname, the Redmen and Redettes.
The school district press release says if approved by the Board of Education, the retirement of the native logo and re-adoption of the block "M" as the official logo may help move the district forward by officially reverting back to its original roots. This was a time where Redmen referred to all students and athletes who donned the scarlet red sweaters.
The MAPS Board of Education meets Monday at 5:30 p.m. in the Little Theatre at Marquette Senior High School.
In October, the MAPS Board formed the Nickname Research Committee to weigh the pros and cons of changing the Redmen/Redettes nickname. The committee recommended that the board changes the nickname.
MAPS Board President Rich Rossway has said the board is working to find a solution that will work for everyone and there is no clear date on when the decision about the nickname will be made.
Critics say the Redmen/Redettes nickname should be changed because of offensive connotations, while supporters say the name is not racist and is tradition.