MAPS Education Foundation hosts annual homecoming event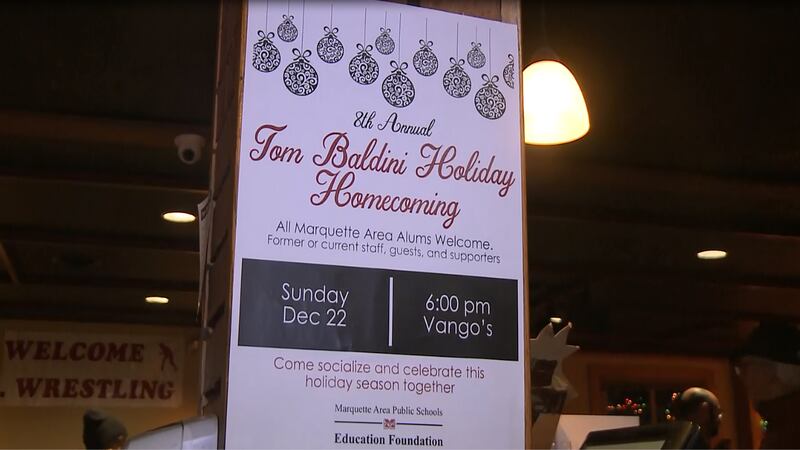 Published: Dec. 22, 2019 at 8:34 PM EST
The Marquette Area Public Schools (MAPS) Education Foundation held their 8th Annual Tom Baldini Holiday Homecoming at Vango's Pizza and Cocktail Lounge in Marquette.
The event began as a way to bring Marquette-area alumni together for the holidays.
"We felt that people were coming home for the holidays and that it would be a great time for them to get together to visit with their classmates and people they know in the community," said MAPS Education Foundation President, Linda Winslow.
Alumni from various Marquette high schools were in attendance, catching up with each other and reminiscing about their high school years as they enjoyed pizza, salad, and drinks.
"It's fun to reconnect with the people you went to school with, and that did not just include your classmates that you graduated with, but everyone in the community," said Winslow.
The homecoming also serves as a "thank you" to the community for their continued support of the foundation and their scholarship funds.
"Our community is continuing to support us in lots of different ways. One of the ways, is they're creating scholarships either in memory of someone, or just a scholarship from their family. They're also creating grant opportunities," Winslow said.
Winslow adds that the event keeps getting bigger every year.
"Over the years we are finding that more people are coming back to reconnect and that people who hadn't reconnected before are able to come and enjoy each other's company," Winslow said.
For more information on the MAPS Education Fund and the types of scholarships they offer, click
.