Inspirational walk promises hope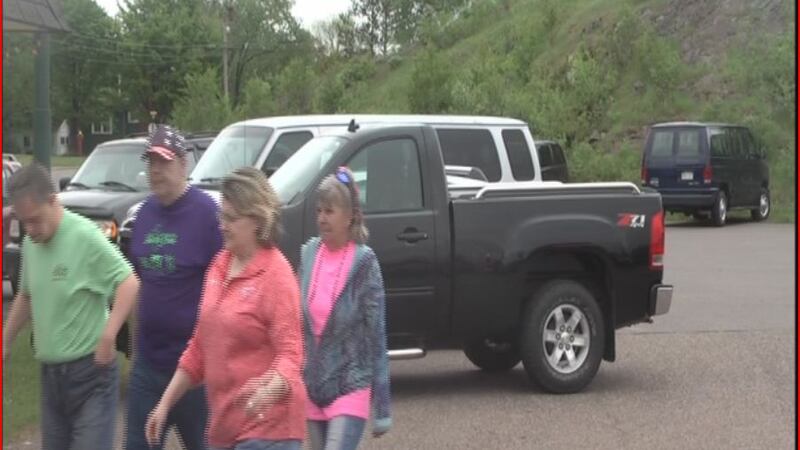 Published: May. 25, 2016 at 6:45 PM EDT
Of Michigan's approximately 10 million residents, nearly 350,000 adults live with serious mental illness. While more than 100,000 children throughout the state have mental health conditions. For that reason, Community Mental Health Services held their annual Walk A Mile In My Shoes Rally to help raise awareness.
For the fifth straight year, people in Wakefield took part in the rally. This year's slogan is: Each New Day Brings With It New Hope. The Community Mental Health Service in the Upper Peninsula created a program for people who have mental illnesses.
"We want people to not feel stigmatized if they come for services," said Office of Recipient Rights Angela Pope. "If you go to the doctor for cancer or a broken leg, we want people with a mental illness or developmental disabled to feel comfortable and come in and not be stigmatized for not receiving treatment. "
This year's program began with individual accounts of people who have tried to commit suicide. Then some guest speakers offered their powerful and uplifting words to all in attendance struggling with difficulties.
"Life is worth living," said AD Johnson High School Student Rachel Mazurek. "There are people out there who care for and care about you and will help you. You just have to ask."
"It's okay to ask for help," said another Johnson High Student Rachel Emery. Others speakers echoed the same theme throughout the day: help is definitely out there.
The day concluded with a mile long symbolic walk around the community. Lunch was served afterwards as a celebration for the successful walk. There were many high school students who showed their care and support for the community.
"I think it's a really rewarding experience because there's always someone who needs your help," Rachel continued. "Everyone needs help at some point. It's good to be there for other people and it really makes you feel good about yourself; knowing you're making a difference."
There was a great turnout as over 200 people flooded the VFW, hoping to end the stigma.