Renewable Wood Energy: Making an old idea new again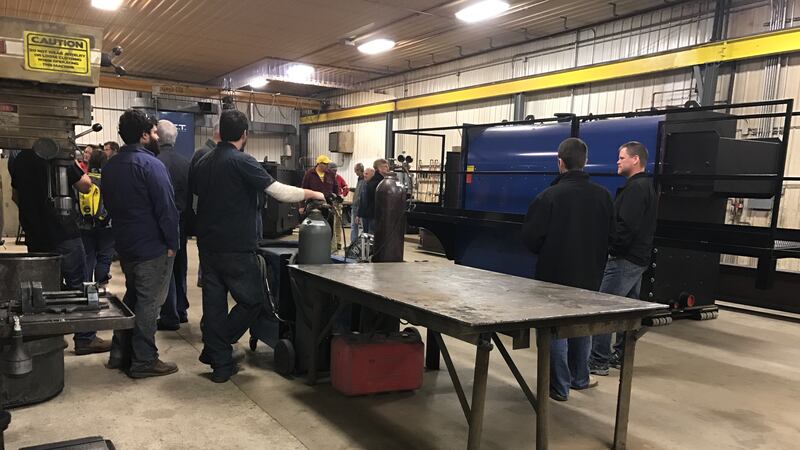 Published: Oct. 11, 2016 at 6:17 PM EDT
The fifth annual Heating the Midwest with Biomass Conference and Expo starts Wednesday at the Island Resort and Casino in Harris.
It's the first time the event is being held in Michigan.
Tuesday, 25 professionals from around the Midwest went on a pre-conference tour of U.P. sites that use biomass systems and manufacture biomass systems.
Biomass, or material from plants or animals, can be burned to produce energy.
"The whole idea of this tour has to do with demonstrating facilities that use wood products for heat and cooling," Michigan State University Forester and Biologist Bill Cook said.
Cook organized Tuesday's tour.
The first site visited was Messersmith Manufacturing in Bark River, a biomass boiler system manufacturer. They work with schools, hospitals and public facilities across the country.
"Our systems burn wood chips primarily or sawdust, basically solid wood-based fuels," Messersmith President Jeremy Mortl said.
If you're on a budget, wood energy may be a good option to consider.
"The fuel cost is very stable," Mortl said. "It's been the same for many, many years, whereas gas prices and gaseous fuel prices fluctuate quite a bit year to year."
The tour also stopped at Verso Corporation, which burns biomass from wastewood sources, Pinecrest Medical Care Facility, which heats and cools their building using a low-pressure steam district energy system, fueled primarily by wood chips, and North Central Area Schools, which partially heats its building with a wood chip boiler.
The Heating the Midwest Conference and Expo officially starts Wednesday.
Speakers, breakout sessions and workshops will teach the roughly 80 professionals attending the conference about different aspects of biomass energy.
"This particular year, we're focusing a little more on wood supplies, but we're also going to be looking at different technologies, national trends," Cook said. "We're going to look at some of the sociological aspects and we're going to be looking at some of the environmental aspects."
The expo floor, which is free and open to the public, will demonstrate the latest in biomass technologies, information and support.
Watch your TV6 and FOX UP News for more information.