Haunted Mine Tours bigger production this year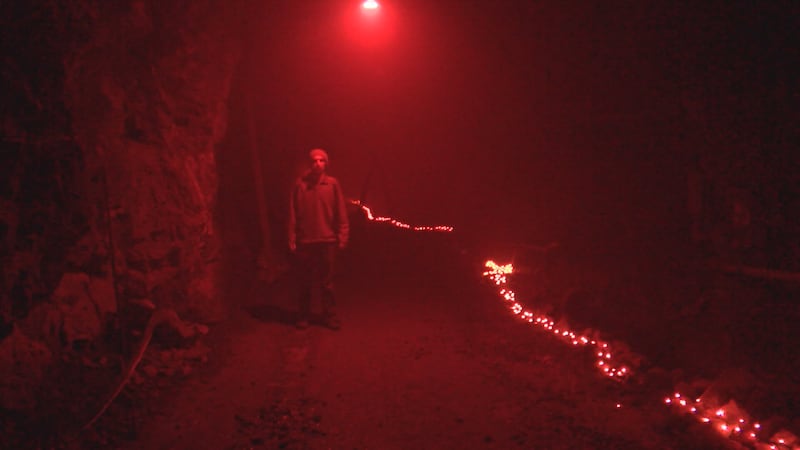 Published: Oct. 26, 2018 at 4:43 PM EDT
The Quincy Mine Hoist Association Haunted Mine Tours are a bigger production than ever this year.
Michigan Tech's Visual and Performing Arts Department comes together with the Quincy Mine Hoist Association for the second time to make the haunted mine tour a deeply eerie experience.
"We started with a script, so we had a basic of the events that we wanted to happen and then tried to figure out what we wanted these events to sound like. We're hoping that they just kind of, right from the first thing that happens when they walk into the mine feel a sense of unease and anxiety coming through the whole mine," said sound content designer Aaron Christianson.
The mine has been equipped with 30 speakers for a specially designed soundscape. Working in the mine presented students with some unique challenges.
"It is very cold. It is very wet. The water is leaking everywhere. I know the students at one point wanted to place speakers in a certain position and it is like, 'oh no, that's a river.' Mounting things is a challenge. Normally if we are working in a theater you can just hang something from a pipe or mount it into a piece of scenery. Here it is like, 'oh, is that a structural piece of steel? Can we mount to that?'" said practice of sound design professor Josh Loar.
The haunted mine includes a full cast of frightening characters created just for the tour.
"I had to design costumes that would contrast enough that even in the low light certain elements that I wanted to be noticed would be noticed and certain elements that we wanted to hide could hide. A lot of it is up to the actors' ability to not be seen and then suddenly be seen," said costume designer Alexandra Walker.
Haunted mine tours run every 45 minutes from 6 to 9:45 p.m. Friday, and 4:30 p.m. to 9:45 p.m. Saturday.