Flooding in Houghton County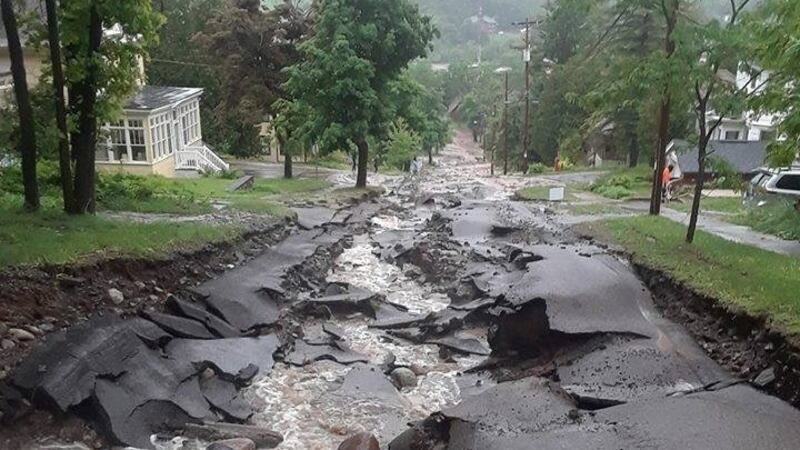 Published: Jun. 17, 2018 at 8:10 AM EDT
UPDATE: - Heavy rains and flooding in Houghton County have forced several road closures this morning:
- US-41 between Chassell and Houghton has suffered multiple washouts. US-41 is closed at the Pilgrim River Bridge.
- M-203 is closed at Brooks Road due to multiple washouts.
- M-26 is closed in Hubbell near Dover Creek due to washouts.
- M-26 is closed near the Mont Ripley ski hill.
The Michigan Department of Transportation (MDOT) is currently evaluating the roadways that have been closed and planning detours or potential reopening. MDOT will continue to evaluate the situation as rain in the area continues. More information will be released as it becomes available.
According to the Michigan Department of Natural Resources, the Portage Canal's Lily Pond public access site, located in Houghton County, near F.J. McLain State Park, is closed until further notice. The closure is due to a storm that came through the area Sunday morning, causing damage to the road and boat ramp. Damage will be assessed after storm waters recede.
--------------------------------------------------
Weather Emergenecy in the Copper Country.
The cities of Houghton and Hancock and surrounding Houghton County have been devastated by flash floods.
Police advise everyone to shelter in place or seek higher ground. Do not drive anywhere. If you need help to evacuate, call 911.
Heavy rain is washing out roads and flooding basements. Agate Street in Houghton has been washed out. Water and sewer lines are exposed.
Numerous roads are impassable. There are reports of more than 60 sinkholes and wash-outs. The heaviest hit areas are Lake Linden to Dodgeville.
The National Weather Service reports the rain starting in the Copper Country shortly after midnight. In a matter of hours, a weather observer on Quincy Hill recorded 6.72 inches of rain. NWS officials say between 4" and 7" of rain has fallen and it continues to rain.
Fire departments are on stand-by if help is needed. Call 911 if you need help.