Flooding closes two Marquette County roads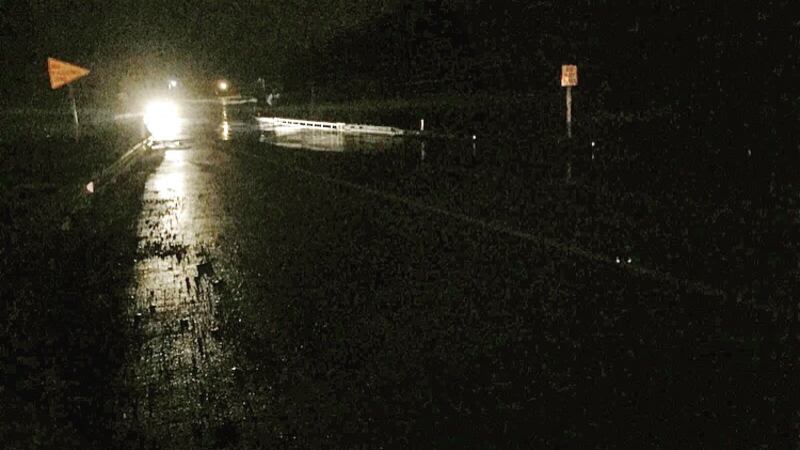 Published: Oct. 18, 2016 at 3:50 AM EDT
UPDATE:
The following is the official information from the Michigan State Police:
As of 3:02 a.m. heavy flooding has been reported along the Chocolay River in Marquette County impacting residents and closing roads. The following roads have been impacted by the flooding:
• US-41 is closed between Heidtman Rd. and Yalmer Rd, M-94 Eastbound is a possible detour.
• M-94 between County Road 545 and Engman Lake Rd is completely closed.
• Green Garden Rd. has been flooded and rescue crews are working to assist residents.
Magnum road in Chocolay Township is also closed due to flooding.
Green Garden road in Marquette County is also closed.
State Police from the Negaunee Post, the Marquette County Sheriff's Office and local law enforcement as well as firefighters and EMS personnel are working to assist residents to safety and assist in traffic control. Please be aware of rapidly changing road and weather conditions and monitor radio and television broadcasts for further updates.
----
Officials have now closed two roads in Marquette County due to flooding.
Around 2:00 a.m. Tuesday morning, the Michigan State Police were alerted to the dangerous situation in the Skandia area. Flooding on the Chocolay River took out one of the lanes of U.S. 41 between Heidtman Road and Yalmer Road. Police are turning back motorists, M-94 West is closed at 2 miles west of US-41. The detour route is M-94 East. M-Dot has been called to the scene to assess the situation.
Another road closed Tuesday morning is County Road 545, near Town Hall Road. The road has been completely washed out there, leaving a gaping hole of about 35 feet across and 20 feet deep.
These roads will be closed until repairs can be made. A reminder that if you see standing water on a road, you should not attempt to cross through. The road underneath may have washed out, or may be too unstable to hold the weight of a vehicle.