Emergency responders receive advanced life support training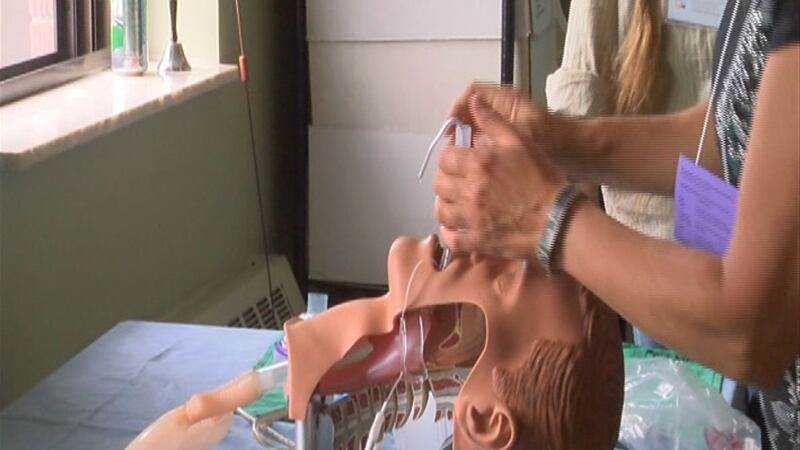 Published: Jun. 22, 2017 at 5:04 PM EDT
The Michigan Center for Rural Health partners with Aspirus this week to improve healthcare in the Upper Peninsula.
24 representatives from all four Aspirus UP hospitals, Mercy EMS and MedEvac participate in two-day Comprehensive Advanced Life Support training this week.
"A lot of times we have physicians that have training and we have nurses that have training and paramadics that have training, but what we have today is really a team concept. So this training allows us to focus on the care of those patients and be ready for when they come in," says Grace Tousinant, Upper Peninsula regional chief nursing officer for Aspirus.
CALS focuses on training all members of Emergency response teams in emergency situations specific to rural areas.
"So, for instance, snowmobile accidents and how to remove a helmet, tractor accidents," says rural health coordinator Emma Smythe of the Michigan Center for Rural Health.
Trainees were also coached on how to properly stabilize patients for longer-distance transport, a necessity in rural areas like the UP where hospitals are much farther apart.
This is the sixth year the Center for Rural Health has sponsored CALS training.
The training is hosted in a different rural Michigan location each year.
"As many rural health professionals know, lack of resources are a big issue," says Smythe, "Specifically, the UP is definitely an area that needs more resources and we are willing to provide those resources, whatever it takes."
The training is facilitated by the Comprehensive Advanced Life Support program.
The program is funded by a grant through the Minnesota Department of Health and the Office of Rural Health and Primary Care.