Children's author gives Birchview students writing tips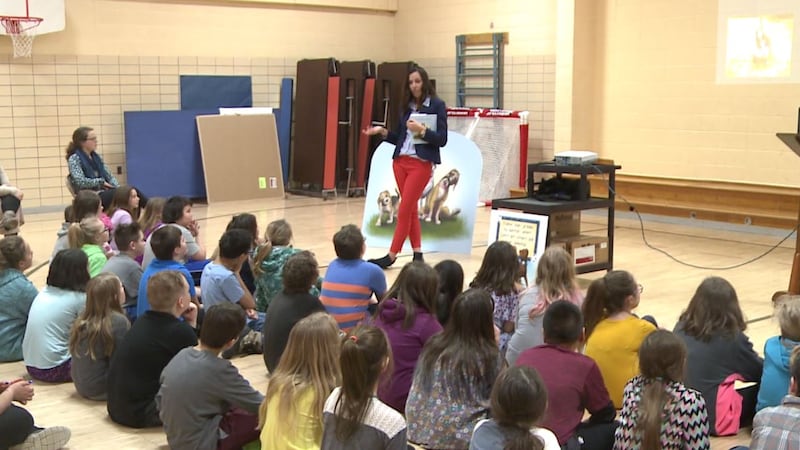 Published: Mar. 11, 2019 at 4:42 PM EDT
March is reading month, and students at Birchview Elementary School got a unique experience on Monday, a writing lesson from a published author.
Erica Abel, author of the brand new children's book Minna and the Canine Club spoke to the students about her inspiration and experience writing her book.
"She's here today celebrating and teaching us her experience as a reader and writer and she's also a teacher downstate," said Molly Miller, 1st grade teacher at Birchview. "So her point of view in that regard too is really exciting."
In the story, Minna, based on Abel's real life dog, starts a school for other dogs to try to copy her owner, who is also a teacher.
"We thought that she was so spunky and so we wanted to start a book series about her that encourages children to have good character traits and leadership skills, as well as promoting rescue dogs," said Abel.
Abel gave the students some tips for their own writing as well, specifically, to draw on their experiences and write what they know.
"That's how I did it too, this is my dog and the stories in this book are real," said Abel. "That's what I want kids to get, that they can write about what they know and anything can be a story if they just put it on paper."
Young Authors is just around the corner, and teachers at Birchview Elementary hope that these tips will inspire the students.
"Today watching the kids listen to her, they've been so engaged and so excited to just get started with their own books and share their books with other students in the community," said Miller.
Minna and the Canine Club is just the first in a new series written by Abel and her family. The second book, written by her mother, will be released this summer.
"It's been really fun," said Abel. "My mom, aunt, sister, and I all started this whimsical writers group because we love to write."
To order your copy, click