Canterbury Book Store remains open under new ownership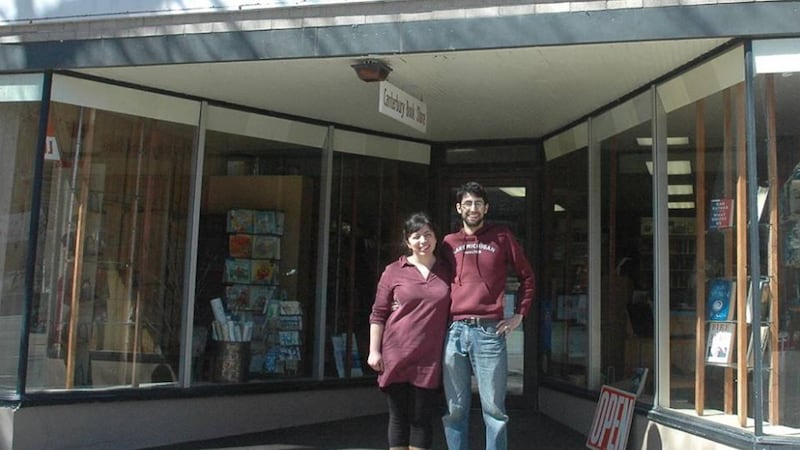 Published: May. 9, 2018 at 12:36 AM EDT
Every town has a select group of stores that make up the heart and soul of it's downtown. In Escanaba, Canterbury Book Store is definitely one of those.
Karen Kovach lives outside of Escanaba but has been driving in to go to Canterbury for years and she was definitely happy to hear the news that it would remain open.
"We were really sad when we found out that Shirley was selling because we were afraid the bookstore was going to close and then we came in and Becky and Jesse were here and they were new owners and we sad "You're back. It's staying!'"
Becky Bender is one of the new owners. She is an Escanaba native who had been coming into the Canterbury Book Store her entire life.
She remembers it as someplace special as a child.
"Canterbury was like a special treat to be able to get something to take home and read."
Jesse Traub is the second of the stores new owners and when he and Becky heard the store was for sale it seemed like fate. Jesse said that as a child he used to think about owning a bookstore one day and here was the chance.
Becky sums up the decision to buy the store quite nicely.
"We didn't want it to close so we said 'What can we do?' and the answer was to buy it."
Jesse says the reaction to their purchasing the store has been incredible.
"It's been overwhelmingly positive. The people of Escanaba have been so supportive and so loving and so kind."
"Canterbury bookstore is a comfortable place to browse" says Becky as she talks about the various sections of the store. And while there is definitely something for everyone here, Canterbury has always been known for having an extensive selection of children's books as well as a large collection of local authors and Michigan based books.
Jesse say that they hope to give shoppers an experience they can't get with online shopping.
"We also hope to provide the things you can't get on-line. A sense of community. Someone to talk to about the book you just read and the ability to browse before you buy. A chance to encounter new authors and new book that you didn't even know you were looking for."
And Jesse says they even have a date that you need to mark on your calendar.
"June 2nd we are going to have a grand opening where we are going to invite the entire community to come."
For store hours and information, be sure to follow them on Facebook at "Canterbury Book Store" or use the link provided on this page.
mark cowman reporting for tv6 news, escanaba}