Calumet Theatre to be featured on Travel Channel's 'Ghostober' line of programming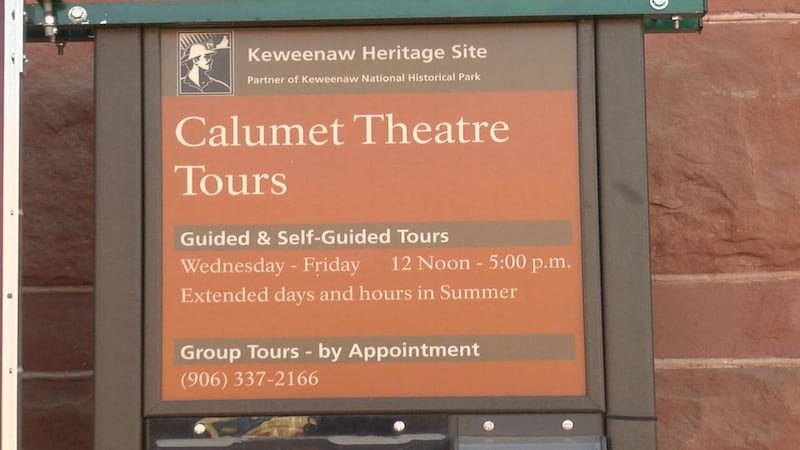 Published: Oct. 2, 2019 at 6:30 PM EDT
Halloween is just around the corner and people all over the country are looking to get their scare on. Travel Channel viewers will be able to get a look into the hauntings of the historic Calumet Theatre.
"Well I was contacted back in March by a producer with the Travel Channel. They were interested in doing a segment for one of their paranormal shows here at the Calumet Theatre, which of course has long been rumored to be haunted," said Marlin Lee, the Executive Director of the Calumet Theatre.
Rumor has it that the halls of the over a century year old theater are roamed by the spirit of a famous early 20th century actress.
"Madame Modjeska, who performed here at the theater, it's rumored that her ghost still lingers here," said Lee.
Travel Channel also took a look at a big part of the town and the theater's history.
"They were very interested in the Italian Hall Disaster from 1913. We talked extensively about that and how the theater was used as a makeshift morgue for the bodies," added Lee.
In the wake of Hockeyville, the Village of Calumet is excited to be getting more national attention.
"It is very exciting for us here at the village, personally I think it shows how unique our community is and how one of a kind the attractions are here," said Caleb Katz, the Village Manager of Calumet.
The current theater director says he hasn't had a paranormal experience, he says many others have.
"They've heard music coming from the ballroom when no one was supposed to be playing in there, to seeing shadowy figures, and walking into cold spots that weren't cold before. There's all kinds of stories as far as the paranormal and potential ghosts go here," said Lee.
The feature premiers Tuesday, October 8, at 10 p.m. on the Travel Channel.