CWD sampling opportunities available in some Wisconsin counties for the 2019 deer hunting seasons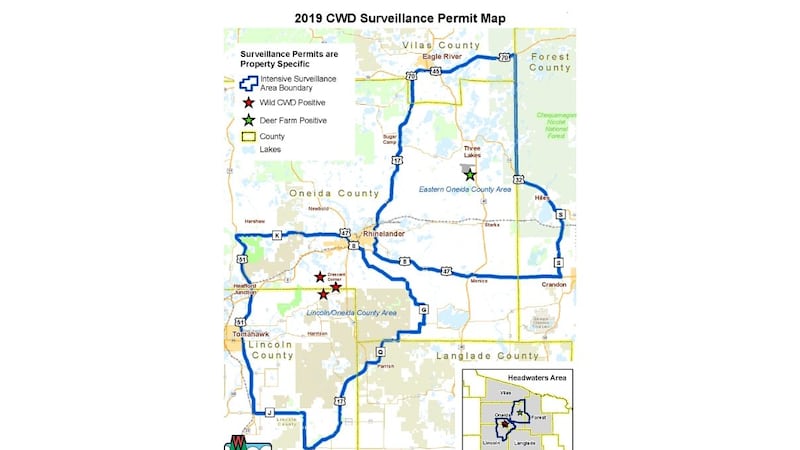 Published: Sep. 13, 2019 at 2:24 PM EDT
In cooperation with local businesses, Wisconsin Department of Natural Resources staff will collect deer heads for chronic wasting disease surveillance testing during the 2019 deer hunting seasons. CWD sampling options will be available to hunters across northern Wisconsin in 2019.
As part of this effort, hunters who harvest an adult deer in Lincoln, Langlade, Oneida, Vilas, Forest and Florence counties are strongly encouraged to submit deer heads for testing. CWD testing is free of charge to the hunter, and anyone submitting the head will receive their results in two to three weeks.
In addition to focused sampling northern Wisconsin, targeted CWD surveillance will continue in two specific areas near Rhinelander. These areas include portions of Lincoln, Langlade and Oneida counties where CWD was confirmed in three wild deer as well as in Oneida, Vilas and Forest counties where CWD has been detected on a captive deer farm.
The health of the deer herd relies upon commitment from our hunters. Managing CWD begins with knowing where the disease already exists on the landscape, and having this knowledge is only possible with a robust sample size. Please make plans to visit one of the following sampling stations to have deer tested.
"We're grateful for hunters making that extra effort to have their deer sampled for CWD, and to support them, we continue to make access to sampling simpler, faster and easier each year," said Tami Ryan, DNR Acting Director for the Bureau of Wildlife Management. "Each deer sample is important because it brings us closer to our goal and ultimately contributes to an accurate understanding of the health of Wisconsin's deer herd."
CWD Surveillance Permits
DNR staff will again issue CWD surveillance permits to private landowners within the two surveillance area boundaries and for public land near the Oneida-Lincoln surveillance area. The permits are property-specific harvest authorizations, and CWD sampling is required. Refer to the map below to determine if your land is within either boundary. Contact Jaqi Christopher in Rhinelander by phone (715-401-2871) or email at jacquelyn.christopher@wisconsin.gov to set up an appointment. Surveillance permits cannot be issued by customer service staff or online.
"It's been 12 years since we conducted district-wide enhanced CWD sampling efforts across the north, and hunters can help by testing their adult deer for CWD this season," said Chuck McCullough, DNR wildlife supervisor. "We had wonderful assistance from hunters with targeted surveillance in 2018, and we will closely monitor our two focus surveillance areas again this fall."
CWD Sampling Locations
Hunters have several options available to have their deer sampled for CWD. In addition to a network of 24/7 self-service sampling stations (also called kiosks) around the state, many meat processors and businesses offer in-person sampling assistance. Some sampling locations also have DNR Wildlife Management staff available to take samples and answer hunter questions.
For an interactive map with sampling locations available in your area, visit
. There is also a
available as an alternative to the map view.
A sample consists of the deer head with 3-5 inches of neck attached. Hunters will also need to have their harvest authorization number, harvest location and contact information when submitting a sample. To make special arrangements for large bucks, please
.
Baiting and Feeding
Baiting and feeding of deer is currently prohibited in Lincoln, Langlade, Oneida, Vilas, Forest, and Florence counties. No counties in the state will be removed from the ban during the 2019 deer hunting seasons. Check the
frequently for updates or contact local wildlife staff to determine if baiting and feeding bans are in effect for your county.
Prevent the spread of CWD
. Those include proper carcass transportation, handling and disposal; also reporting sick deer, following baiting and feeding regulations and cleaning and decontaminating equipment. Hunters should also follow urine-based scent recommendations.
Sick deer reports
Sick deer and deer with an unknown cause of death should be reported to DNR wildlife staff. This does not include car-killed deer. Contact staff listed above or call the DNR's Customer Service hotline at 1-800-847-9367.
Test results
To view CWD results, visit
. Hunters must enter a customer ID or CWD sample barcode number for results. Turnaround time from when the deer is sampled to when the results are available is typically two weeks.
If your deer tests positive, please follow
, Wisconsin's Department of Health Services and the
not to consume venison from that deer.
For more information regarding CWD in Wisconsin, visit
.