Shake up your Thanksgiving dinner with these unique side dishes
Upper Michigan Today Tuesday, November 21.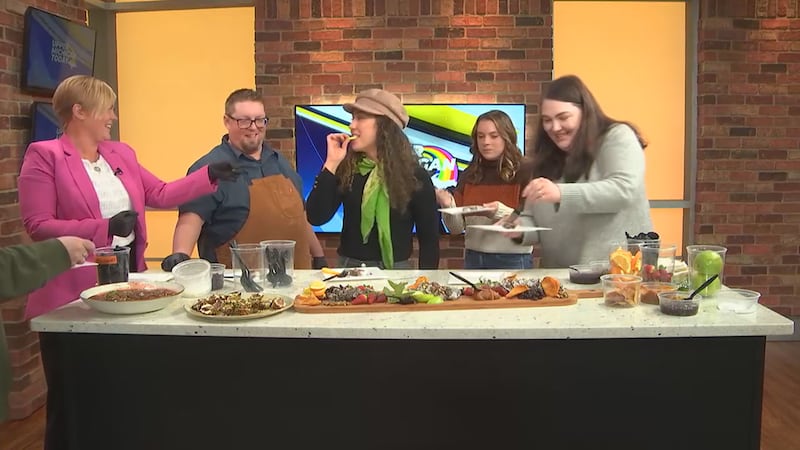 Published: Nov. 21, 2023 at 11:39 AM EST
MARQUETTE, Mich. (WLUC) - We're two days out from Thanksgiving... is your dinner menu set?
If it's not, or if you're looking to stray from tradition this year, tune into Tuesday's episode of Upper Michigan Today!
Certified Executive Chef Nathan Mileski of Focus Restaurant Concepts dropped by to share recipes that will leave your guests asking, "What did you say this was?" while reaching for more.
But first, Elizabeth Peterson and Tia Trudgeon share stories of the day.
Now, back to culinary creativity!
Up first, Chef Mileski shows you how to make cranberry Thai chili meatballs.
This recipe calls for a can of cranberries, a jar of sweet Thai chili sauce, and pre-made meatballs.
Next... cheesy, nutty grape balls. This is one you just have to try for yourself.
The recipe calls for red and/or green grapes, toasted pistachios, one part goat cheese, and one part mascarpone cheese.
Adding some fresh greens into the mix...
Chef Mileski makes a salad of kale, brussel sprouts, pomegranates, golden raisins, pecans, bacon, asiago cheese, and champagne vinaigrette.
Have you ever heard of chocolate salami?
Neither had Elizabeth or Tia, but it's a treat they gave two thumbs up.
It calls for heavy cream, semi-sweet chocolate, pistachios, and ladyfingers.
It's not a true Thanksgiving meal if you don't share it with friends or family!
Do you have any non-traditional food items you prepare at Thanksgiving? Do you plan to make any of Chef Mileski's recipes?
Upper Michigan Today wants to see it! Submit your photos and videos here.
You can watch Upper Michigan Today on weekdays at 9:00 a.m. on FOX UP or stream the show on your smart device with the TV6+ app.
Copyright 2023 WLUC. All rights reserved.