Upper Michigan Today explores holistic healing at Still Point North Center with singing bowl immersion
Upper Michigan Today Friday, November 17.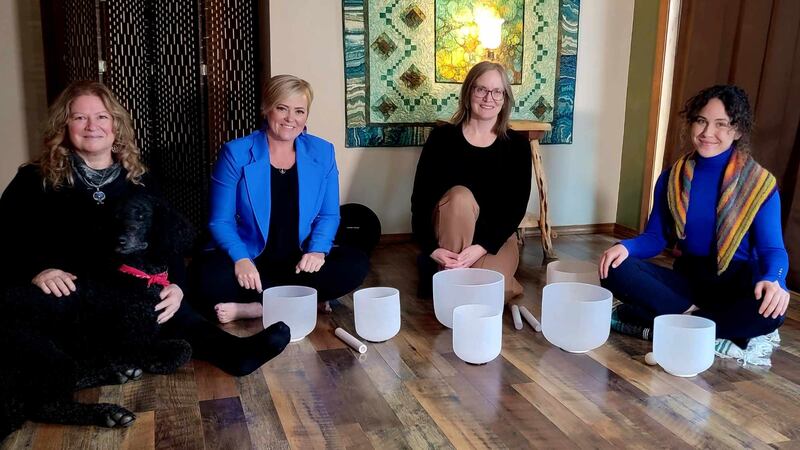 Published: Nov. 17, 2023 at 11:37 AM EST
MARQUETTE, Mich. (WLUC) - Upper Michigan Today took its show on the road again Friday, November 17 to dive into the sounds of singing bowls and learn more about this holistic healing modality.
Elizabeth Peterson and Tia Trudgeon are live at Still Point North Center and kick off the show chatting with owner Kim Kee about what she offers in her space.
Singing bowl artist Emily Koren joins the conversation.
She and Kee talk about the function of singing bowls and how they can assist in meditation and emotional healing.
Immerse yourself in the sounds.
Kim Kee was recently the subject of a documentary film called Yooper Wisdom...
...which sparked the idea for a podcast, also called Yooper Wisdom, which is released bi-weekly on Fridays.
Kee has over 40 years of experience in the healing arts.
She offers craniosacral therapy and says this modality provides relief to the emotional and physical body.
You can join Koren and Kee for a sound bath at Still Point North Center on November 29 at 6:30 p.m.
Upper Michigan Today wraps up the show with a singing bowl harmony.
Still Point North Center is located at 6044 US-41 North in Chocolay Township.
The best way to keep in touch with its workshops and other happenings is through Facebook at Still Point North Center.
You can contact Kim Kee at the center at (906) 228-7418.
You can watch Upper Michigan Today on weekdays at 9:00 a.m. on FOX UP or stream the show on your smart device with the TV6+ app.
Copyright 2023 WLUC. All rights reserved.