It's pasty day at the Gwinn VFW
Upper Michigan Today stops by VFW Post 5670 to check out its pasty-making process.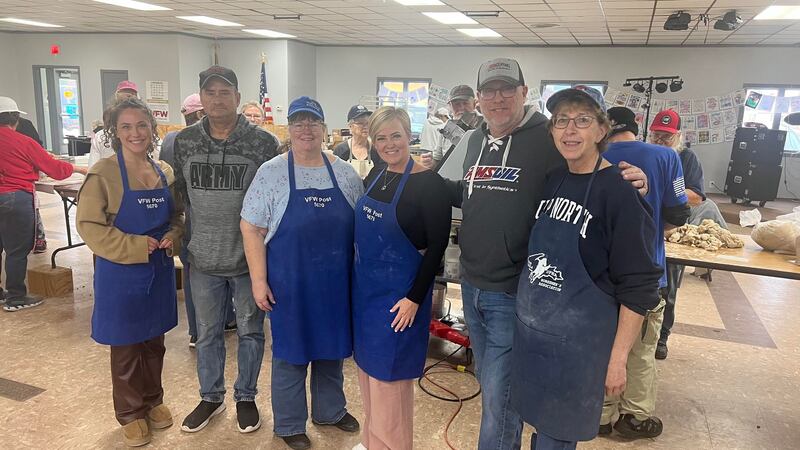 Published: Nov. 14, 2023 at 11:48 AM EST
GWINN, Mich. (WLUC) - It's the second Tuesday of the month.... AKA pasty day at the Gwinn VFW Post 5670.
Once a month from September through May, VFW members and a team of volunteers gather at the post for a multi-day pasty-making affair.
Upper Michigan Today took its show on the road to check out the process and learn more about about this monthly fundraiser.
But first, Elizabeth Peterson and Tia Trudgeon chat with Adjutant Alan Cook about the 77-year history of the VFW post.
Back to pasties... Auxiliary President Louise Ingalls walks you through the assembly line.
Ingalls says the VFW post will turn out 675 pasties today, and expects them all to go.
Orders are typically placed ahead of time, but if you're in luck, you can secure one at the last minute.
Each pasty day brings in roughly $800-900 for each the VFW and its auxiliary group.
Quartermaster Brian Parsons says funds are used to support veterans, other community groups, and updates to the post building.
Elizabeth and Tia engage in a little bit of friendly competition...
Many of the VFW's pasty-making crew are volunteers.
Auxiliary Secretary Lisa Pellegrini says the post is actively looking for more people to serve the Gwinn community through volunteering.
And finally, Elizabeth and Tia enjoy a perfect Yooper brunch.
Pasties at the Gwinn VFW are $6 each and can be ordered in advance by calling the post at (906) 346-5670.
They can be picked up on Tuesday morning after 11:00 a.m.
You can learn more about the VFW Post 5670, become a member, and view resources and programs at vfw5670.org.
You can watch Upper Michigan Today on weekdays at 9:00 a.m. on FOX UP or stream the show on your smart device with the TV6+ app.
Copyright 2023 WLUC. All rights reserved.