NMU expands resources for epilepsy awareness, first-aid training; Suicide Survivor Fund receiving Governor's Service Award
Upper Michigan Today Monday, November 13.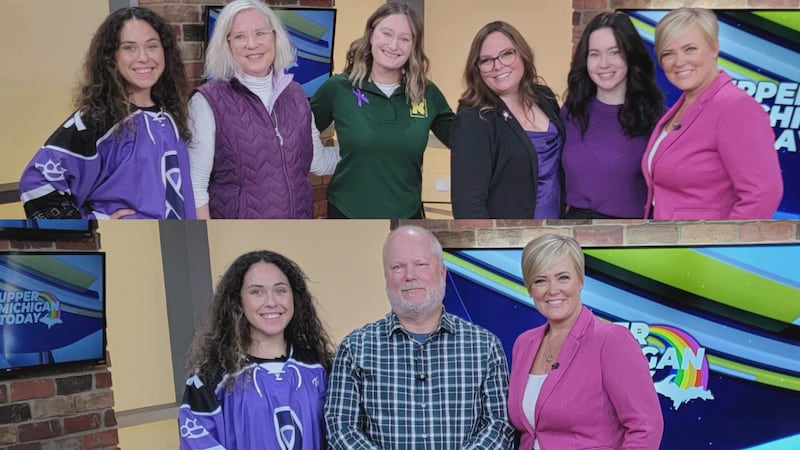 Published: Nov. 13, 2023 at 11:48 AM EST
MARQUETTE, Mich. (WLUC) - November is National Epilepsy Awareness Month.
Epilepsy is a common neurological disorder that causes recurring seizures in people of all ages but can look different for each individual who's been diagnosed.
Upper Michigan Today learns more about the condition and the initiatives currently happening on the campus of Northern Michigan University to increase awareness and first-aid resources.
But first, Elizabeth Peterson and Tia Trudgeon share stories of the day.
Now, back to epilepsy awareness.
NMU Senior Liz Preston and her mom Kathy Agee share their experiences from epilepsy diagnosis to moving up north for school.
Sarah O'Neill talks about NMU's efforts to increase epilepsy awareness and first-aid training.
Knowing what to do in the event of a seizure can save someone's life.
There are different types of epileptic seizures. Shannon Waid of the Epilepsy Foundation of Michigan says bystanders often don't realize that someone is experiencing a seizure.
If someone near you is having a seizure, Waid says to keep in mind the three s's: stay, safe, side, which includes staying with the person until they are awake and alert; removing or guiding them away from any dangerous objects or situations (e.g., stairwell, street) where they could be injured; and if they fall, turning the person onto their side, keeping their airway clear and loosening any tight clothing around their neck.
You can learn more about epilepsy, the Epilepsy Foundation of Michigan, and access online training resources at epilepsymichigan.org.
Switching gears... Dave Aro of the Suicide Survivor Fund of Marquette County and Six Feet Over stopped by Upper Michigan Today to give Elizabeth and Tia an update on the fund since his last FOX UP visit.
Since then, the fund has helped six Marquette County families with post-suicide financial assistance, spending nearly $20k in 18 months.
The Six Feet Over board recently submitted a proposal for a 3-year pilot program that would provide services to southeast Michigan and the U.P. to gather data to show needs and costs for urban areas and rural areas. The hope is that the data will lead to a permanent program through Michigan's Department of Health & Human Services.
For more information about the funding available for suicide loss survivors, visit sixfeetover.org and cfofmc.org.
You can watch Upper Michigan Today on weekdays at 9:00 a.m. on FOX UP or stream the show on your smart device with the TV6+ app.
Copyright 2023 WLUC. All rights reserved.