Dr. Grugin retiring as NMU band director after 27 years
Upper Michigan Today highlights the NMU band and Dr. Stephen Grugin's 27-year career.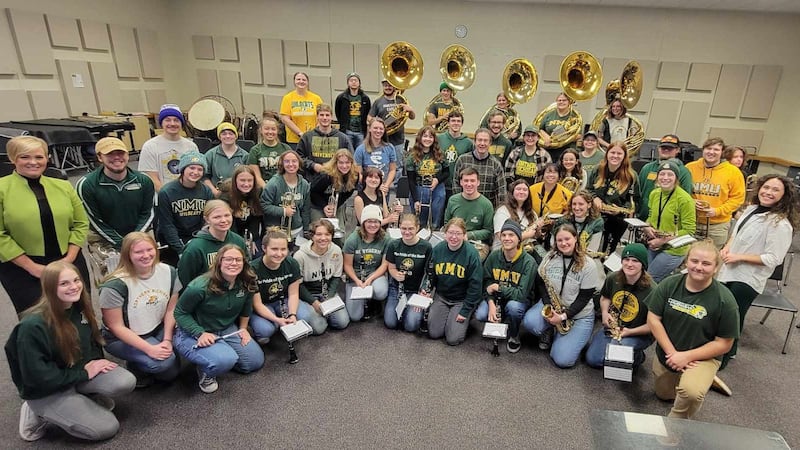 Published: Nov. 10, 2023 at 12:36 PM EST
MARQUETTE, Mich. (WLUC) - The long-time director of the Northern Michigan University Marching Band is hanging up the baton.
Dr. Stephen Grugin is retiring after 27 years as the Wildcat band director.
Upper Michigan Today took its show on the road Friday, Nov. 10 ahead of Dr. Grugin's final performance at the Superior Dome to look back at his illustrious career.
First, Dr. Grugin takes Elizabeth Peterson and Tia Trudgeon through the history of the NMU Wildcat Marching Band.
Dr. Grugin brought big-school techniques to the small university.
He talks about his pre-NMU band history, influences, and how the band program has changed since he took over in 1997.
The band's presence extends beyond NMU's campus...
...and it's safe to say that the Marquette community recognizes its iconic sounds.
The band plays its unofficial fight song, Paul Simon's "You Can Call Me Al".
Dr. Grugin dives into memorable moments.
You can catch Dr. Grugin's last performance as conductor of the band at the Superior Dome on Saturday, Nov. 11 at 1:00 p.m.
Though he's stepping down from the band director role, Dr. Grugin will continue working with select students in the band program and will continue to conduct the Marquette City Band.
And finally, the band plays one more tune.
You can watch Upper Michigan Today on weekdays at 9:00 a.m. on FOX UP or stream the show on your smart device with the TV6+ app.
Copyright 2023 WLUC. All rights reserved.