Live from the field... Upper Michigan Today crashes NMU football practice
Tristen Kendrick joins Tia Trudgeon as co-host on Upper Michigan Today Thursday, September 28.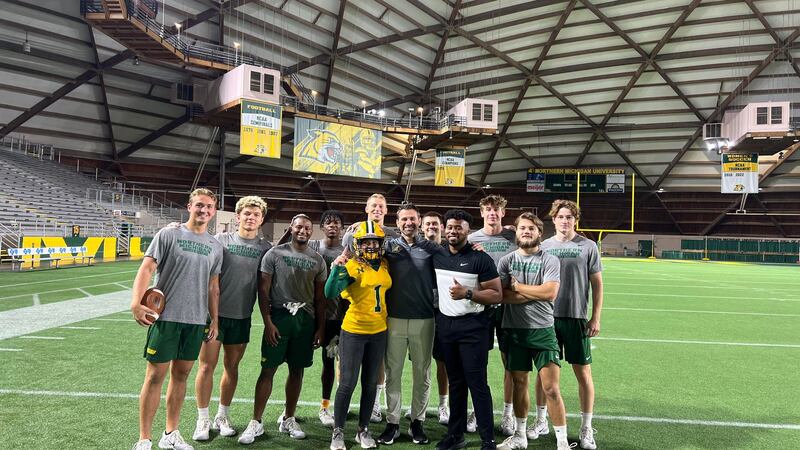 Published: Sep. 28, 2023 at 12:24 PM EDT
MARQUETTE, Mich. (WLUC) - With four games under its belt, Northern Michigan University is almost halfway through its football season.
Seven games are left, and only four are to be played at home in Marquette.
It's crunch time for the Wildcats, though they're no strangers to hard work. Upper Michigan Today stopped by NMU's Superior Dome to check it out and to hear from Head Coach Shane Richardson about his expectations for the remainder of the season.
But first, Elizabeth Peterson shares another look on board Great Lakes Freighter, the Lee A. Tregurtha, before challenging the crew to do 20 push-ups.
Now, back to NMU football.
Though the last four games have yielded less-than-favorable results, Coach Richardson remains enthusiastic.
Trust, togetherness, and building chemistry as a team have been at the forefront since Richardson started his position in January.
"When you look at the scoreboards and the records, you've got to be careful to not get too wrapped up in that. You've got to focus on the small battles that you have to try to win. What it is is, you're looking at trying to improve every week, you're looking at what the players can do better on a consistent basis, and what can you do to stay fundamentally sound... obviously you want to win, but you have to establish the right formula to achieve that." says Richardson. He adds, "This week we've really tried to focus on- we want to play full speed to the whistle, which really comes down to players' effort... and the second thing is just playing with great enthusiasm."
Enthusiasm in the stands can make a difference, too.
The athletes demonstrate a drill for Upper Michigan Today...
...before Tia gets suited up for end zone action.
Northern Michigan University's next home football game is Saturday, October 14 at 7:00 p.m. vs. rivals Michigan Technological University.
The game will air live on FOX UP.
You can check out the rest of this year's football schedule at nmuwildcats.com.
You can watch Upper Michigan Today on weekdays at 9:00 a.m. on FOX UP or stream the show on your smart device with the TV6+ app.
Copyright 2023 WLUC. All rights reserved.