Bank that handles Infowars money appears to be cutting ties with Alex Jones' company, lawyer says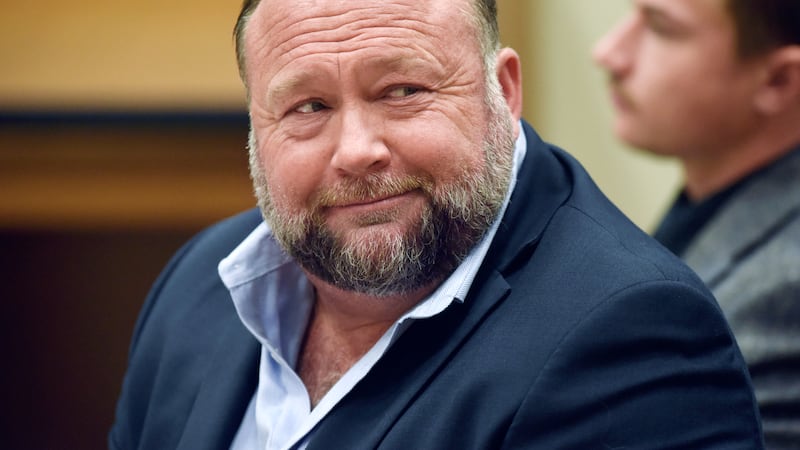 Published: Sep. 28, 2023 at 2:32 PM EDT
HARTFORD, Conn. (AP) — A bank recently shut down the accounts of conspiracy theorist Alex Jones' media company, citing unauthorized transactions — a move that caused panic at the business when its balances suddenly dropped from more than $2 million to zero, according to a lawyer for the company.
The action last week by Axos Bank also exposed worry and doubt at the company, Free Speech Systems, about being able to find another bank to handle its money.
Jones, a conservative provocateur whose Infowars program promotes fake theories about global conspiracies, UFOs and mind control, is seeking bankruptcy protection as he and his company owe $1.5 billion to relatives of victims of the 2012 Sandy Hook Elementary School shooting in Connecticut.
The debt is the result of the families winning lawsuits against Jones for his calling the massacre that killed 26 people a hoax and his supporters threatening and harassing the victims' families.
A lawyer for Free Speech Systems, Ray Battaglia, told a federal bankruptcy judge in Houston on Tuesday that Axos Bank had shut down the company's accounts on Aug. 21 "without notice or warning."
Battaglia said he and a court-appointed overseer of Free Speech Systems' finances were both out of the country when they received "frantic" messages about the company's bank balances dropping to zero.
Bank officials, he said, didn't provide much information.
According to Battaglia, Axos claimed it had contacted Free Speech Systems in July about a transaction and the company did not respond, which Battaglia disputed. The bank also indicated there were unauthorized transactions, but didn't go into detail, he said. He said the bank informed Jones' company that it would be sending a cashier's check for the total balance.
"So we're perplexed," Battaglia told the bankruptcy judge. "We have no answers for the court. They (the bank) have not provided us with any."
Battaglia said the media company will have to seek another bank or take Axos to court "because we just don't know who will bank us." At the request of Jones' lawyers, Axos did agree to reopen the company's accounts for 30 days but it appears it will not extend the relationship beyond that, he said.
Spokespeople for Axos did not return email messages seeking comment Wednesday. An email sent to Infowars also went unanswered, as have previous messages.
Jones and Free Speech Systems make the bulk of their money from selling nutritional supplements, survival gear, books, clothing and other merchandise, which Jones hawks on his daily web and radio show.
According to the company's most recent financial statement filed in bankruptcy court, it had more than $2.5 million in its Axos accounts at the end of August after bringing in more than $3 million in revenue during the month. The company paid out over $2 million in expenses and other costs, leaving a net cash flow of $1 million.
The bankruptcy judge, Christopher Lopez, will be deciding how much money Jones and Free Speech Systems will have to pay creditors, including the Sandy Hook families. Jones is appealing the court awards, citing free speech rights and missteps by judges.
In 2018, social media companies including Facebook, YouTube and Apple banned Jones from their platforms. It is not clear if Jones' views have anything to do with Axos Bank's actions.
Copyright 2023 The Associated Press. All rights reserved.