WWII-era plane converted into Airbnb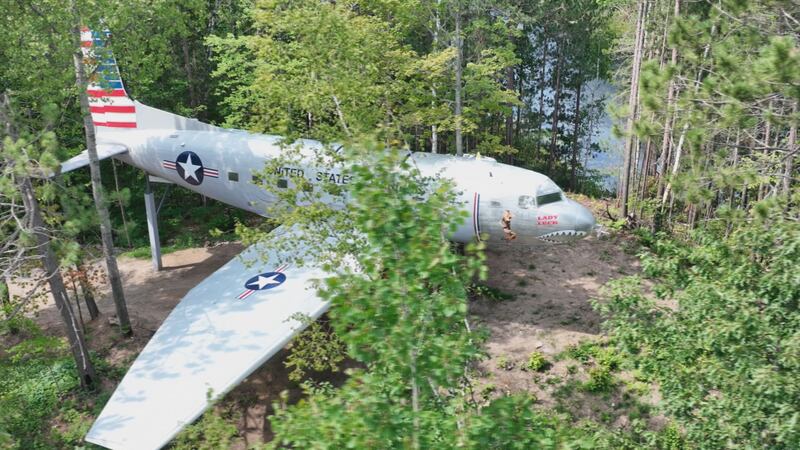 Published: Sep. 24, 2023 at 3:29 PM EDT
KEMPSTER, Wis. (WSAW) - Neat. That's one word Joe Draeger used a lot when talking with him about his new Airbnb north of Antigo.
"I knew it was going to be neat, but I didn't know it was going to be that big look the way it does," said Draeger. "Where it's hung up in the trees to make it look like a plane either landed or crashed."
About 19 months ago, Draeger had an idea.
"When I was searching on Airbnb a few years back I saw one in Venezuela, and it had more of a short modified version of a, just like a, cockpit and a small part of the fuselage and a short section of the wing. I thought it'd be neat if you're going to do that to do the whole thing."
"It didn't seem that outlandish at the time," said Gary Fleischman.
With his contractor, Fleischman on board, Joe got to work. Thinking he'd head out to the Air Force boneyard in Arizona, he was turned toward Oshkosh.
"The Basler Turbo Conversion Company," Draeger said. "So I went down there and talked to them and sure enough they had one that they said they had taken so many parts off of it, it was going to be scrap or unusable for them and he sold it to me."
In October of 2022, they hauled the 1941 DC-3 World War II-era plane to his shop in Antigo to remodel it inside and out.
"Bathroom. Shower. It's so short you obviously don't have a lot of headroom," Draeger said inside.
"We had to empty out the whole fuselage and then put it all back together and make it livable," said Fleischman. "You know, to where you know people are comfortable in it."
"Little kitchen area. The sink. Table. Fridge," Draeger said as he continued to tour.
Joe paid $10,000 for the plane, which he thought was a bargain. He's put another $50K into it to get it where it is now.
"We just have the two trundle beds," he said walking through. "These slide out underneath. It does sleep 4."
"That's the biggest thing that interested me was the actual history of the plane," added Fleischman. "Bring it back so it still has some of that authenticity to it."
"I wasn't sure how it was all going to lay out. Obviously, you've got a 60x8 foot tube and you have to make it into living quarters," Draeger said.
A forest view one way, and High Lake on the other. When the rebuild was finished, they moved the plane to a piece of property in Kempster, 10-12 miles north of Antigo. Then put it on stilts to give you that airborne sensation.
"[We] Had a crane pick it up and then set it over the trees and onto the cradle we engineered, and created," Draeger recalled.
"It is my first time ever putting something this high up in the air," said Fleischman.
To top it off, they re-created propellers out of big ceiling fans with giant blades hooked up to a converted motor.
"They're motion detected so when you walk up on them the lights come on and the blades start to spin," said Draeger.
When the sun sets, the fun begins.
"At night it's all lit up," Draeger said. "The wings are lit. The tail's lit. The motors are lit. It looks a little more unique at night when it's lit."
For this Antigo businessman, the job met and, shall we say, flew past his own expectations.
"I mean they really are a neat airliner."
The plane is open for business. He said the state did come in and inspect it, so no safety questions were left up in the air. joe has two other rental properties as well, including a giant tree house.
Copyright 2023 WLUC. All rights reserved.