Adams Township K-12 art teacher starts community pack walks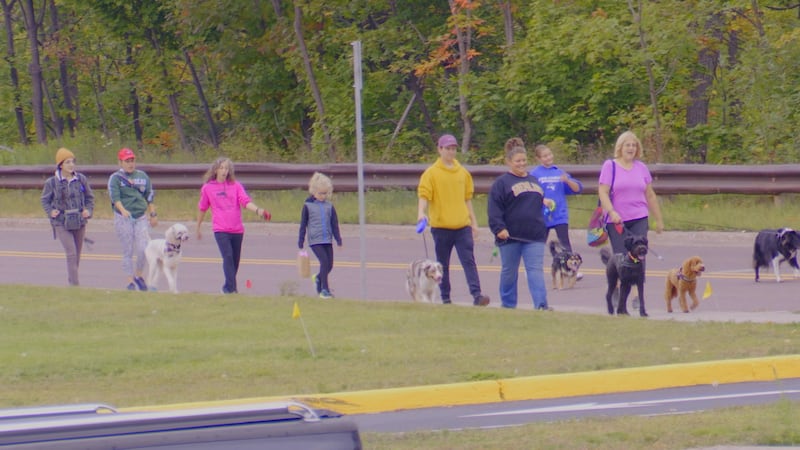 Published: Sep. 23, 2023 at 9:46 PM EDT
|
Updated: Sep. 25, 2023 at 12:03 PM EDT
HOUGHTON, Mich. (WLUC) - A K-12 teacher from Painesdale has started regular "community pack walks" in Houghton, called Paavo's Pack Walk.
The event is named after founder Paige Lewandowski's dog, Paavo, who serves as Adams Township School's facility dog and in the community as a therapy dog under Pet Partners.
Lewandowski is a K-12 art teacher at Adams Township Schools. She says she started the walks to provide an opportunity for dogs to exercise and socialize, work on leash skills, and train in basic obedience skills.
"These Houghton County Community pack walks are open to all and offer a holistic approach to dog ownership and bonding by providing socialization, exercise, training, and a sense of community," Lewandowski said. "They contribute to the physical and mental well-being of dogs and their owners while promoting responsible pet ownership."
Paavo's Pack Walks are every other weekend and start at the Rosza Center in Houghton.
"We start walking down the path, and sometimes we take water breaks," said Elli Lishinski, one pack walk member. "Then we keep walking, and we normally go around the Rozsa Center and back over here, and then we normally just talk with each other and let the dogs have a break for a little."
The pack walk is open to anyone in the community with a dog. New dogs that attend also get a free digital art pet portrait after their first pack walk! Examples are on the Paavo's Pack Walks Facebook page.
In addition to the pack walks, Lewandowski and Paavo will be be continuing their reading program, for kindergarteners up to 3rd graders at the Portage Lake Library.
Copyright 2023 WLUC. All rights reserved.