Community, camaraderie, and climbing: inaugural Slug Fest fundraising for property improvement
Slug Fest will bring 100+ climbers to Slug's Bluff in Palmer over the weekend.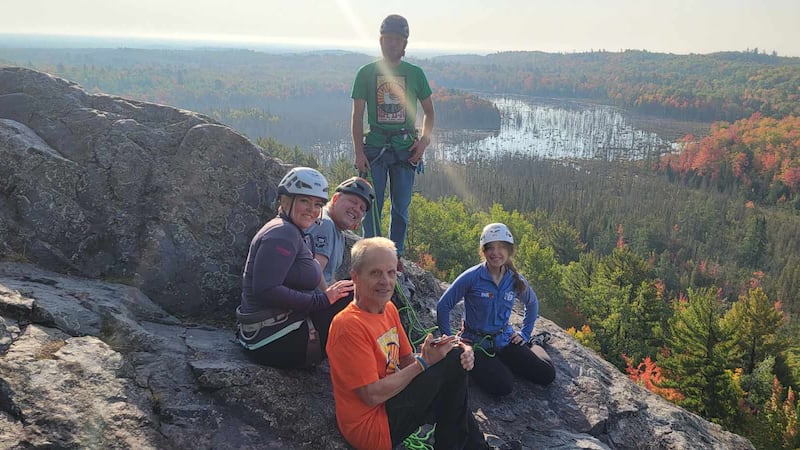 Published: Sep. 22, 2023 at 12:04 PM EDT
PALMER, Mich. (WLUC) - An inaugural festival is taking over a popular climbing spot in Palmer this weekend.
Slugfest kicks off Friday and goes through Sunday, and will bring over 100 climbers to Slug's Bluff for social climbs, cliff-side yoga, camping, workshops, and more.
Funds raised from the climbing festival will go toward the creation of a community garden on the property.
Formerly owned by the Arbelius family, the Slug's Bluff property was donated to the Upper Peninsula Climbing Coalition (UPCC) a year ago under the condition that it would remain open for public use.
Elizabeth Peterson and Tia Trudgeon chat with John Miller, President of the UPCC, about the donation of this property and the creation of the festival.
Miller and UPCC Treasurer Bill Thompson help Elizabeth and Tia gear up for their climb...
...before Elizabeth conquers her fear and scales the bluff!
Now it's Tia's turn on the carabiner.
Slug Fest is a celebration of Michigan's only climber-owned climbing area.
You can register for the festival and view the full schedule of events at upperpeninsulaclimbing.com.
You can watch Upper Michigan Today on weekdays at 9:00 a.m. on FOX UP or stream the show on your smart device with the TV6+ app.
Copyright 2023 WLUC. All rights reserved.