Tickets on sale now for Evergreen Award of Marquette County luncheon
Nominees and winners will be announced at the luncheon happening on October 16.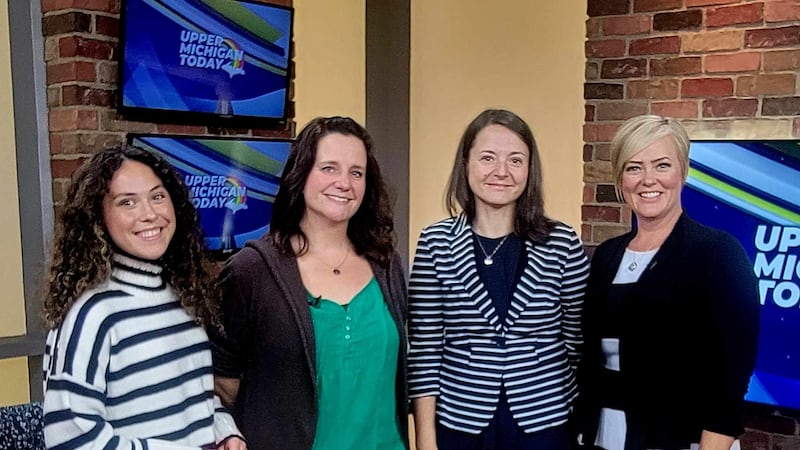 Published: Sep. 21, 2023 at 10:35 AM EDT
MARQUETTE, Mich. (WLUC) - Tickets are on sale now for the Evergreen Award of Marquette County luncheon.
The Evergreen Award honors an individual in the community who has dedicated their time and energy to support and mentor women and girls.
The Evergreen Scholarship is awarded based on the same criteria but is for someone looking to continue their education or switch careers.
Kori Bjorne of the West End Health Foundation and Zosia Eppensteiner of the Community Foundation of Marquette County stopped by Upper Michigan Today to talk about the nomination process, the awards, and the luncheon.
But first, Elizabeth Peterson and Tia Trudgeon share stories of the day.
Now, back to the Evergreen Award of Marquette County.
The award is given to leaders in the community. Whether that be in the workplace, as a volunteer, or as a person who has had a positive impact on the lives of girls and women in the friends.
The luncheon is used as a ceremony to honor the previous year's winner and announce the nominees for this year's award.
Nominees don't know they're nominated until they're at the event.
The Evergreen Award of Marquette County luncheon is happening at noon on Oct. 16. at the Holiday Inn in Marquette.
Tickets are $15 each and can be purchased at eventbrite.com.
You can learn more about the Evergreen Award and scholarship and nominate an individual at zonta15.org.
You can watch Upper Michigan Today on weekdays at 9:00 a.m. on FOX UP or stream the show on your smart device with the TV6+ app.
Copyright 2023 WLUC. All rights reserved.