Keweenaw Wild Bird REC releases rehabilitated magnolia warbler; shares tips for maintaining bird habitats around your home
Many birds sustain injuries because of human activity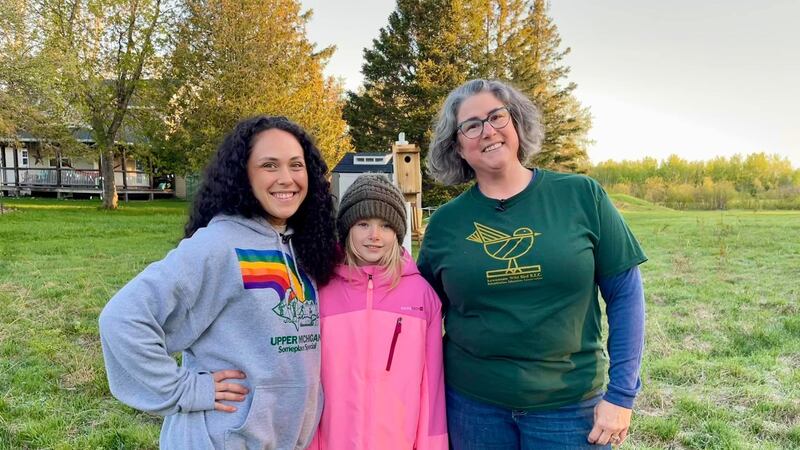 Published: May. 25, 2023 at 8:24 AM EDT
HANCOCK, Mich. (WLUC) - Keweenaw Wild Bird REC has a mission that's threefold: conservation, education, and rehabilitation.
Vet Tech Michelle Anderson has been working primarily with birds since 2008 and currently runs a bird rehabilitation hospital and aviary right outside her home.
She tells TV6′s Tia Trudgeon that many of the birds she nurses sustained their damage because of human activity.
Too-clear windows, trimming your trees, and letting your cats outside are major factors that lead to bird injuries.
Anderson says the best ways to help maintain bird habitats during breeding season is to avoid cutting/trimming your trees during nesting season, but if you must, confirm that no birds have made a home there first. Even if the tree is dead, it may provide food and/or shelter for cavity nesters like woodpeckers, chickadees, swallows, and bluebirds.
She adds that birds don't see glass like humans do, and treating your windows with paint, patterns, decals, etc. will help birds avoid collisions.
Time in rehabilitation depends on the bird and the injury.
This magnolia warbler was injured by crashing into a window, but after three days of rehabilitation, is ready to be released into the wild.
Anderson has a number of nesting boxes around her property and suggests adding one or more to your own yard to encourage safe and healthy bird habitats.
You can visit nestwatch.org for resources on constructing and placing your nest boxes.
If you're in the Hancock area and spot an injured bird, you can give Michelle Anderson a call at (906) 299-2149.
Copyright 2023 WLUC. All rights reserved.