Ishpeming students build nest box to place at Cliffs Shaft Museum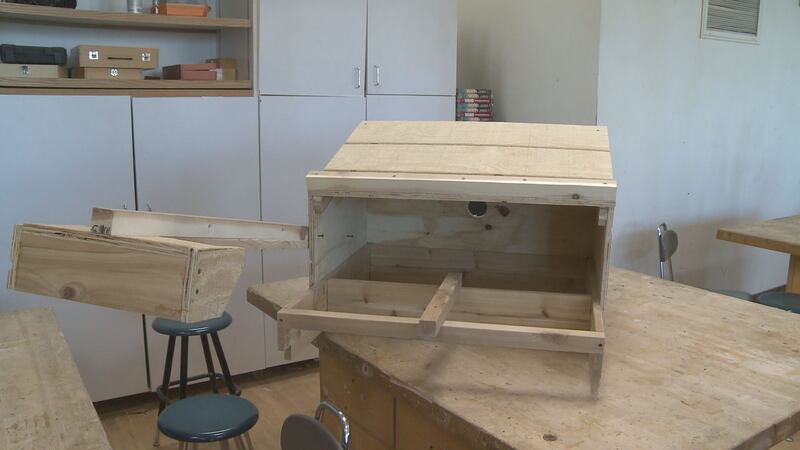 Published: May. 25, 2023 at 5:21 PM EDT
ISHPEMING, Mich. (WLUC) - Ishpeming students partnered with the National Audubon Society in Marquette County to create a nest box.
The nest box will be set up at the tallest headframe of the Cliff Shaft Museum. Laughing Whitefish Audubon Society board member Thom Skelding said they are interested in putting a camera in the box.
"I mean to contribute so much to the West End. It's just amazing how many projects they take on and plus it's going to Cliff Shaft and it really helps Cliff Shaft out," Skelding said.
The students received instructions on how to build the nest from Michigan Tech University. Ishpeming High School Wood Shop Teacher Andrew Henseler said it's important for students to be active in their community.
"That's kind of a teacher's dream is to have students create a project that the public can see, because most times the public doesn't necessarily see what goes on in school. Especially in a regular math, reading or science classroom. But in a wood shop class, we really have the opportunity to get our projects and what we do out in the public," Henseler said.
One of the students Connor Mager who built the structure said their reason for success was teamwork.
"The client came in and wanted to have the box made. So we made the Falcon box. It's going be good for like the community, like the birds and stuff and their habitats. It was really fun building it and it's going to be part of history," Mager said.
Skelding said there isn't a tentative date for the nest box to be put up but says it will be put up as soon as possible this summer.
Copyright 2023 WLUC. All rights reserved.