Michigan House passes safe gun storage proposal
It's part of a package that also expands background checks and creates a red flag law.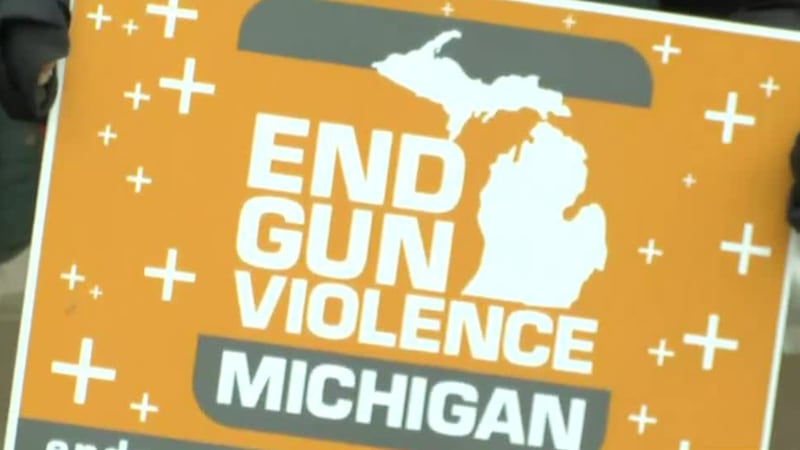 Published: Mar. 22, 2023 at 7:36 PM EDT
LANSING, Mich. (WILX) - The Michigan House of Representatives is moving gun reform proposals forward.
A proposal requiring people to safely store their guns passed the House Wednesday with some bi-partisan support. It's part of a package that also expands background checks and creates a red flag law.
Read: Experts: Gun reform shouldn't be 'one size fits all'
Democrats have said those proposals are just the beginning. They also introduced plans this month that would raise the age to buy a gun from 18 to 21 and add a 14-day waiting period for someone to take a gun home after buying it.
But, Republicans said none of the plans address gun violence.
More than 300 people from across the state rallied in front of the Capitol on Wednesday, urging the House to pass gun reforms.
"We can be a voice for all of the victims of gun violence," said Tim Woycik, whose stepdaughter was killed by her ex-boyfriend in 2004.
Woycik is happy to see proposals like expanding background checks, safe storage and red flag laws moving quickly through the legislature.
"We've been waiting for so long to see some action take place. There's been a conversation going on for a long, long time," said Woycik.
Rep. Andrew Fink said that the conversation needs to continue.
"I think there's a mismatch between the perceived need to address gun violence, which I think all of us share," Fink said. "Our communities need to be kept safe."
Fink said the proposals in the legislature now only hurts gun owners who follow the law. Instead, he wants to see the laws Michigan already has enforced.
"It's unusual that a person commits their first crime with a firearm. In other words, most people are already kind of going down a path of criminal activity," said Fink.
There are many gun owners who support changing the law.
"It's more than past time for this to happen," said Woycik.
The Senate passed bills last week expanding background, requiring safe storage, and creating a red flag law.
Gov. Gretchen Whitmer is expected to sign gun reform bills into law. She's made it one of her priorities for the year.
Read next:
Subscribe to our News 10 newsletter and receive the latest local news and weather straight to your email every morning.
Copyright 2023 WILX. All rights reserved.