Final preparations underway for this weekend's Builders Show
Upper Michigan Today is LIVE at the Superior Dome to check out the set-up before doors open at 4:00 p.m.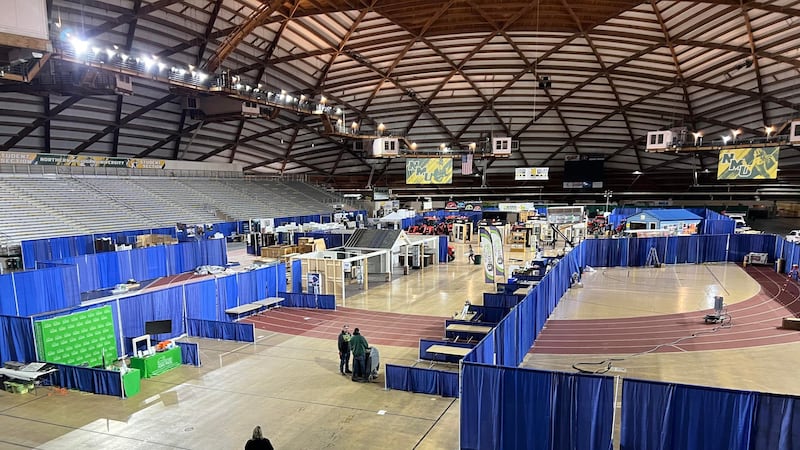 Published: Mar. 10, 2023 at 10:39 AM EST
MARQUETTE, Mich. (WLUC) - The Builders Show is back at the Superior Dome this weekend!
Upper Michigan Today takes its show on the road to show you what the weekend-long expo has to offer.
First, they chat with Sarah Foster of the Home Builders Association about the return of this event and what's different this year.
Over 80 vendors are featured in this year's show.
Next, Tia climbs in a scissor lift while Midway Rentals shares what their booth has to offer this year at the show.
You can even customize your own sauna this weekend!
Yooper Cans is a new company that builds portable saunas out of old shipping containers.
Plus, Pemble Concrete Coatings is there to cover your flooring needs.
And finally, enter your name for a chance to win a customized cornhole set and patio chairs from Rainy Creek Construction!
The Builders Show opens today, March 10, from 4:00 to 8:00 p.m.
The Builders Show is open Saturday from 10:00 a.m. to 6:00 p.m. and again on Sunday from 10:00 a.m. to 2:00 p.m.
Admission is $6 and covers you for the whole weekend.
You can watch Upper Michigan Today on weekdays at 9:00 a.m. on FOX UP.
Copyright 2023 WLUC. All rights reserved.