UPDATE: Escanaba apartment fire started by toddler using lighter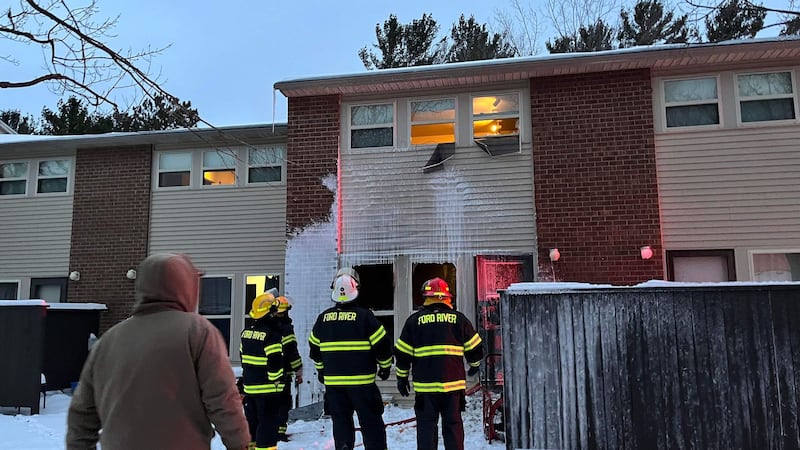 Published: Feb. 6, 2023 at 6:29 PM EST
ESCANABA, Mich. (WLUC) - Escanaba Public Safety Officers responded to a structure fire at the Sand Hill Town Homes apartment complex Monday around 5:45 p.m.
Witnesses saw flames and smoke coming out of a window. When officers arrived on scene, the entire living room was engulfed in flames.
Officers quickly entered the apartment and extinguished the fire. The attached apartments on both sides were saved and did not sustain any damage.
The original apartment sustained major damage and all the contents inside were destroyed. Water and smoke damage was also contained to the one apartment.
The cause of the fire is believed to be a toddler using a lighter on the living room couch.
The fire still remains under investigation.
One firefighter sustained minor injuries but no one was injured from the apartment complex.
Escanaba Public Safety was assisted at the scene by the Ford River Volunteer Fire Department, City of Escanaba Electric Department, City of Escanaba Water Department, Rampart, DTE, and the Delta County Central Dispatch Center.
Last published: Feb 6, 2023
A small fire was reported Monday evening at an Escanaba apartment complex.
Around 5:45 p.m., Escanaba Public Safety, the Ford River Volunteer Fire Department and other agencies were called to the Sandhill Apartments at 711 Charlotte Court for a report of a building filled with smoke.
A TV6 reporter on the scene says everyone got out safely and the fire was minor.
This story will be updated when more information is available.
Copyright 2023 WLUC. All rights reserved.