Michigan bald eagles dying from lead poisoning caused by fishing, hunting gear
Lead bullets and fishing line weights dangerous for scavengers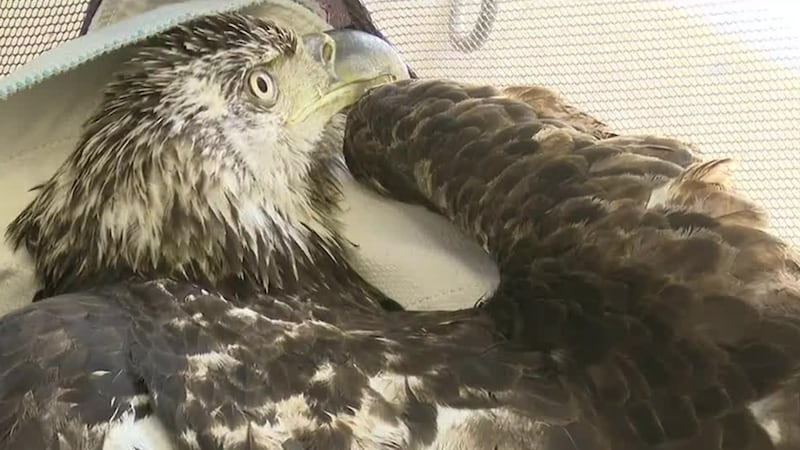 Published: Feb. 2, 2023 at 6:20 PM EST
EATON RAPIDS, Mich. (WILX) - Eagles are being exposed to lead and it's killing them. Wildlife experts said it's incredibly common.
Wildside Rehabilitation in Eaton Rapids said Thursday it was treating three eagles for lead poisoning. Even just a small amount of lead can be deadly for these big, majestic, birds.
"It's still very sad when you have to euthanize because you know that it was us (people), that caused it to happen in the first place." said Jonah Wojnar, with Wildside Rehabilitation and Education Center.
While eagles are federally protected, wildlife experts said the threat of lead comes from hunting and fishing. If eagles could talk, they might ask you to stop using lead bullets and lead fishing weights.
"Lead (poisoning) cases, it's almost every eagle," said Wojnar. "It's very rare to get an Eagle that tests negative."
Eagles are scavengers and consume lead left behind from bullet fragments and lead fishing weights. Wojnar treats around 20 eagles with lead poisoning every year.
"They are the American symbol, so to have them go extinct in America would be kind of not great," said Wojnar.
It doesn't stop at eagles though, the recovery center takes in many different types of scavenger birds with lead poisoning.
"I mean it causes the same issues in birds as it does in people, it kills neurons," said Wojnar.
There are success stories, but not all birds can recover.
"It's difficult. I mean it's gotten easier over time, in that you start to understand that yes, you're ending the suffering," said Wojnar. "There's nothing else we can do."
Lead hunting and fishing gear are still very common due to the low cost. If you don't substitute lead for a non-toxic material, Wildside Rehabilitation has one request.
"Don't leave gut piles, clean up your gut piles. If you do use lead ammunition, don't leave that stuff out where it can be eaten," Wojnar said. "If you're using lead sinkers, don't leave fish out there with lead sinkers."
Using lead hunting gear is also unsafe for you and your family. The World Health Organization said any level of lead exposure comes with health risks for people and their feathered friends.
At least 30 states restrict the use of lead ammunition. California is the only state with an outright ban on lead bullets.
Read next:
Subscribe to our News 10 newsletter and receive the latest local news and weather straight to your email every morning.
Copyright 2023 WILX. All rights reserved.