Educators weigh in on the use of artificial intelligence in the classroom
College professors talk about the pros and cons on AI and how it is affecting the education world.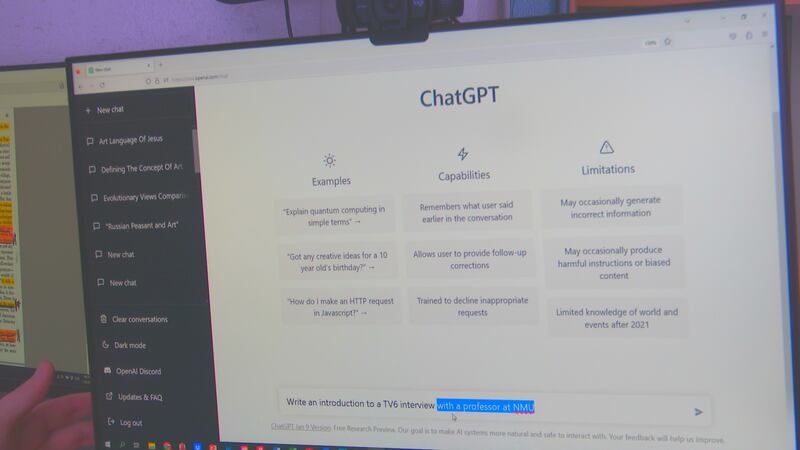 Published: Jan. 26, 2023 at 10:26 PM EST
MARQUETTE, Mich. (WLUC) - Technology has become a growing presence in the classroom, offering new ways to teach and learn. Some new tech, however, is presenting educators with a fresh challenge.
Northern Michigan University Philosophy Professor Antony Aumann said at the end of the fall semester he caught a student using artificial intelligence (AI) to cheat on an essay.
"The grammar was too perfect, and the structure was impeccable and it was incredibly insightful," said Aumann. "Frankly, it was a little better than what most of my students are capable of."
Aumann stated that he ran the student's paper into an AI search engine which said it had a 99% match to one in its system. The professor said a new AI chatbot called Chat GPT, created in November can do just about anything you ask it to. Aumann added that incidents like these are causing teachers to worry about the future.
"I just think that the temptation is going to be way too great, given how easy it's gonna be and it's not just for essays," said Aumann. "You can submit your multiple choice questions and the chat will tell you how to do those. It can do your computer programing problems, it can do your math problems, there are all kinds of things it can do."
Michigan Tech University Associate Professor of Digital Media Stefka Hristova explained how AI technology like Chat GPT differs from other learning-related technology that students already have.
"Chat GPT can write an essay that's very formulated and is the same formula every single time," said Hristova. "So it will have an introduction and it will compare and contrast and then every single time I ran the software, the conclusion would begin with the same thing."
She noted that being literate in technology will be key for educators moving forward.
Both professors ultimately expressed that AI will continue to progress, so we need to learn how to progress with it.
Copyright 2023 WLUC. All rights reserved.