Rodgers open to possibility of playing elsewhere next season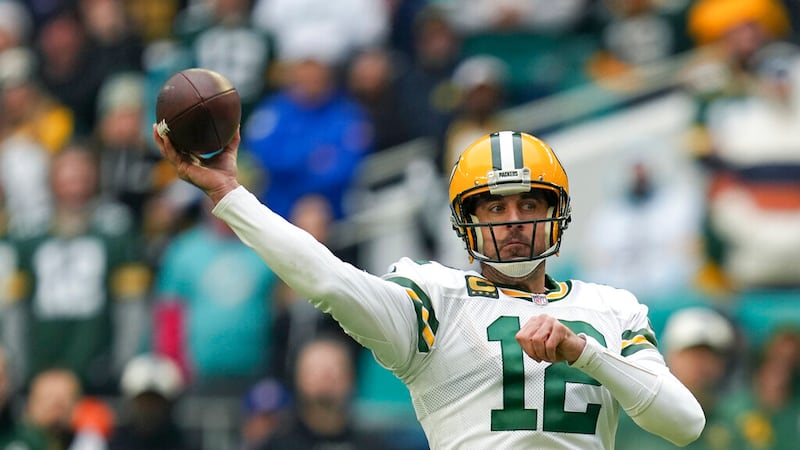 Published: Jan. 25, 2023 at 12:47 AM EST
GREEN BAY, Wis. (AP) — Aaron Rodgers says he hasn't decided whether to continue playing next season.
However he is adjusting to the possibility he could end his career somewhere other than Green Bay.
The four-time MVP quarterback is still deciding whether he wants to return to the Packers, retire or request a trade. Rodgers also has noted the possibility the Packers might want to trade him and hand the quarterback job to 2020 first-round draft pick Jordan Love.
"Any time there's a situation where change is possible, what's the old adage?" Rodgers said Tuesday on "The Pat McAfee Show" on SiriusXM and YouTube. "People want to say, 'Oh, the grass isn't always greener on the other side.' I always say the grass is green where you water it. I think that's the most important thing to remember.
"Change is a part of this business. It's a part of life. I think being open to it and embracing whatever that change looks like is an important part of coming to peace with whatever decision lies ahead of you."
Rodgers, 39, made this comment one week after saying he believed he could still play at an MVP level in the right situation, but added that he wasn't sure if the right situation would be in Green Bay or somewhere else.
Rodgers also had said last week that he didn't want to be part of a rebuild "because there's no point in coming back if you don't think you can win it all."
Rodgers has played his entire career with the Packers, who selected him with the 24th overall pick in the 2005 draft.
"To be open to the possibility if I want to keep playing, that it might be somewhere else, I understand that," Rodgers said. "I understand they might want to move on and go younger at a number of different positions. That's a part of it. When I think about that thought, it's important to understand that, to have some peace with that, because there is a lot that's out of your control. It's not with any malice. It's not with any animosity. It's with complete gratitude for an incredible organization that's done a ton for me."
Rodgers' contract calls for him to make about $59.5 million next season, though he suggested Tuesday that figure probably would get adjusted if he does decide to play.
"I don't think there'd be a scenario where I would come back and that would be the number," Rodgers said. "Definitely things would have to shift."
Packers general manager Brian Gutekunst said Jan. 13 that he believed Rodgers could still play "at a very high level."
During that news conference, Gutekunst was asked directly if he could look Rodgers in the eye and tell him the Packers were ready to move on if the team reached that conclusion.
"If we were, sure," Gutekunst answered. "Absolutely. You've got to be honest with him, you know what I mean? I think he deserves that if we get to that point. We're not at that point."
Even so, Rodgers has discussed the possibility the Packers might want to move forward without him. Rodgers said there shouldn't be any hard feelings from either side if they end up parting ways.
"I love the team," Rodgers said. "Love the organization. I love the city. I love the region. I'm a minority owner in the (NBA's Milwaukee) Bucks. I'm going to be a part of the region long after I'm done playing. I have a lot of love for what's gone on in Green Bay, and I'd love to finish there. I would. I might have finished there. Who knows?"
Copyright 2023 The Associated Press. All rights reserved.