Former NMU linebacker set to coach Wildcat Football for 2023 season
Richardson joins Northern Michigan after spending the last eight seasons at the head coach of the University of North Carolina at Pembroke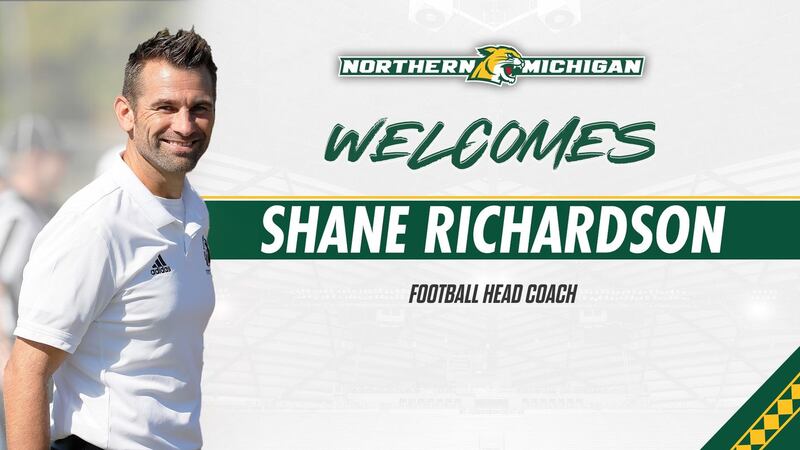 Published: Jan. 12, 2023 at 6:09 PM EST
MARQUETTE, Mich. (WLUC) - Former Wildcat's linebacker Shane Richardson is set to be the head coach for Wildcat Football in the 2023 season. He said during his press conference Thursday, the first main goal he hopes to achieve is a strong culture right from the beginning.
"We are going to have a culture that really understands how to develop people, how to push their best and understand their potential and get that out of them every single day," said Richardson. "You can talk about it, but you got to be about it. You got to train it every day you got to demand it. You have to hold people accountable."
Richardson played for the Wildcats from 1996-2000. Athletic Director Rick Comley says the path to get Richardson was a quick one, but he is confident in the decision that was made.
"I'm very confident in the end. There was input, and time and care were taken. I think the decision that was made, it's good for the university, it's good for football. I think it will just get things going and I think every coaching staff you bring in no matter the sport has their own plan, their own philosophy. What I want to reinforce is the support and the belief internally in the football program that we do want to regain a level of success that we have had in the past, and I believe it can be done," said Comley.
Recruiting will also play a big part in helping NMU to grow to be successful, but Richardson says it comes down to finding the right guys who want to be here, and not just good football players.
'You have got to be a well-rounded individual. You have to be able to have great ambition and a desire to have success in your life. It has to be part of your daily habits and we want those guys. We want leaders, we want guys that are going to just be committed to what we are doing and understand our values, our system of operating," said Richardson. "We will make them get that and understand to see the benefits of how it will reward them. Those are the types of guys we want."
Richardson previously coached at the University of North Carolina at Pembroke for the past eight seasons posting a 37-48 record, including a 10-2 mark in 2016. With stiff competition in the GLIAC, Richardson looks to lead the Wildcats to their first winning season since 2009.
Copyright 2023 WLUC. All rights reserved.