Iron River throws a parade for Olympic gold medal winner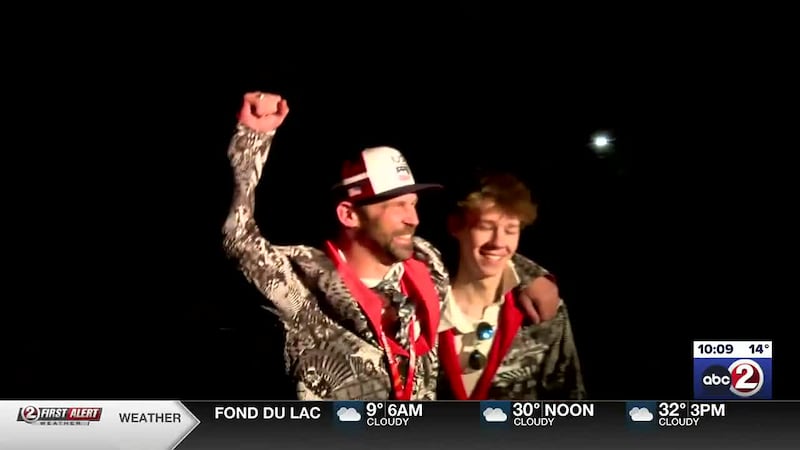 Published: Feb. 14, 2022 at 6:33 AM EST
|
Updated: Feb. 14, 2022 at 5:49 PM EST
IRON RIVER, Mich. (WBAY) - An Upper Peninsula native is being honored Monday after capturing a gold medal for Team USA late last week.
Nick Baumgartner, of Iron River, Mich., won gold in mixed snowboard cross with Lindsey Jacobellis at the Winter Olympics in Beijing.
He received a warm welcome at Austin Straubel International Airport outside Green Bay, Wis., Sunday evening. He received a hero's welcome in his hometown on Monday.
"It's just such a good feeling when you put so much work and effort into something and you don't reach that goal. So many times," Baumgartner said after flying in Sunday. "This is a 17-year journey to this, and there's many times I could have given up, and I think a lot of people would have, and I hope that this story shows people that you need to keep fighting."
The support Baumgartner is getting from his community has been immense.
"Work ethic and grit man. When I think of Nick Baumgartner that's what I think of," Rick Kinsey of Iron River said as he lined up along the parade route. "It kind of just shows you that it doesn't matter where you're from. If you put the work in, you too can be an Olympic gold medalist."
Article continues below the video
Obsessed with snowboarding since 1990 when he got his first plastic board for Christmas and took it to the sledding hill, Baumgartner told Action 2 News his passion for the sport is what's kept him competing at a high level -- and able to make Team USA this year.
After the parade a reception was held at West Iron County High School where he shared a few words.
"For a small town like this. To have a local hero sort-of-speak to be able to talk about is just simply awesome," Steve Stoychofm said.
During freezing cold temperatures, Baumgartner stopped along the parade route taking selfies and hugging folks.
He won Olympic gold Saturday morning in Beijing in the first ever mixed team snowboard cross competition to be held at the winter games.
"I'm 40 years old, I went back to the Olympics for the fourth time, and I got a gold medal when a lot of people counted me out," Baumgartner said. "And there's been highs and lows, I've had to fight through a lot of adversity. But you can't give up on yourself and you can't give up on your dreams."
Two days prior to winning gold, Baumgartner lost his individual race coming in tenth place and thought it was over.
"The bad days that you feel horrible, and you want to quit, those are the days that make the good days great. So don't give up on those, keep going," Baumgartner said.
He was the oldest American snowboarder in Olympic history and the oldest snowboarder to have won a medal in the Olympic Winter Games, according to the U.S. Olympic and Paralympic Committee.
"He grew up here so he knows how tough it can be living in an area like this," Lynn Weirda of Iron River said. "It also shows kids that they can do anything if they really want to."
Copyright 2022 WBAY. All rights reserved.